Centering Station relies on programmable motion paths.
Press Release Summary: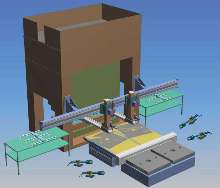 Vision-based centering station uses cameras and control system to compare actual position of blanks to desired in-die position. It determines appropriate motion path required by feeders to properly align blanks prior to entering press. Station consists of 2 telescoping shuttle systems with rotate units and automatic end-effector disconnect plates, 2 cameras and lighting systems, press-mount bracket and cycling axis, conveyor from washer or destacker.
---
Original Press Release:

ATR-Strothmann's New Vision-Based Centering Station Offers Simplicity and Flexibility


Cambridge, Ont., Canada, Jan. 20, 2004 - ATR-Strothmann has announced the development of a vision-based centering station designed to replace complex traditional mechanical centering systems. Based upon a mechanically simple design, the new vision-based system uses a camera and control system to compare the actual position of the blanks to the desired in-die position and then determines the appropriate motion path required by the feeders to properly align the blanks prior to entering the press. Since the system relies upon programmable motion paths versus hard automation, it offers extreme flexibility.

"We saw a gap in the technology being used to center blanks," said Mike Bleau, president of Industry-Scope, ATR-Strothmann's North American sales and marketing representative. "We conceptualized the combination of ATR's vision technologies with Strothmann's automation products to produce a simpler and more effective blank centering system. By using machine vision technology and simple robotic motion to perform its tasks, this new system eliminates the need for side crowders, end stops, rear pushers, or other complex mechanical devices more prone to wear and tear -- not only simplifying operation, but adding to system life."

The vision-based centering station consists of two telescoping shuttle systems with rotate units and automatic end-effector disconnect plates, two cameras and lighting systems, a common press-mount bracket and cycling axis, a conveyor from a washer or destacker, and an industry-standard control system.

The system can be designed to work with single or two non-attached blanks. Depending on the size and number of the blanks, a single or dual telescoping shuttle feeder - equipped with a rotate axis will pick-up, re-orient, and load the blank or blanks into the die space in one motion. Although based upon standard components, the vision-based centering stations are designed to fit customer specifications.

ATR develops and markets industrial automation, information and vision system solutions for manufacturing clients around the world, including Boeing, BMW, DaimlerChrysler, Coca-Cola, Ford, Magna, Molson Breweries, Procter & Gamble and Weyerhaeuser.

Strothmann manufactures linear and rotary robotic components and systems used in handling of a variety of materials in multiple process applications, including sheet metal destacking and stacking, bodyshop transfers, part and pallet racking and stacking, inter-press automation, linear and gantry robots for transferring parts, and machine tool load and unload systems.

ATR and Strothmann are subsidiaries of the G. Siempelkamp GmbH & Co. Group of Krefeld, Germany with North American operations in Cambridge, Ontario, Canada.

Find more information on ATR at atrsi.com

Find more information on Strothmann at www.strothmann.com

For more information on Siempelkamp GmbH & Co. Group at www.siempelkamp.com

More from Test & Measurement