Carbide Tool Coating lasts longer, removes more material.
Press Release Summary: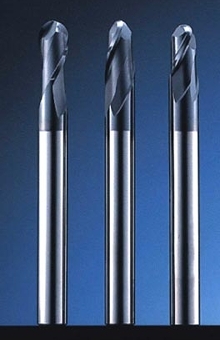 Tests show that BALINIT® X.CEED coating for carbide tools increases service life up to 3x versus company's previously used coatings. Cutting tests involved materials with hardness up to 62 HRC. It works on materials that are difficult to machine, such as titanium alloys and nickel-based metals.
---
Original Press Release:

New TiAlN High-Performance Coating


Significant Productivity Enhancements Due to Higher Material Removal Rates and Longer Service Lives with BALINIT® X.CEED

With the official U.S. launch of the new high-performance coating, BALINIT® X.CEED, for carbide tools in September 2002, at the IMTS, Balzers lives up to its reputation as the global leader in coating technologies, delivering the key to performance gains for numerous tools in specific applications. The new BALINIT® coating, which has already been successfully tested for several months by reference customers, significantly boosts productivity and greatly improves process stability.

By systematically optimizing relevant properties such as hardness, oxidation resistance, and thermal stability, Balzers research laboratories have developed a coating that attains quantum leaps thought to be impossible, especially in applications involving difficult-to-machine materials and in hard machining operations.

A coating adds value

Particularly in these sophisticated applications, BALINIT® X.CEED proves what it is capable of. Independent institutes reported an increase in service life up to three-fold versus previously used coatings in cutting tests involving materials with a hardness of up to 62 HRC.

Enormous performance enhancements were also achieved with materials that are difficult to machine, like titanium alloys and nickel-based metals. In titanium alloy milling applications, for instance, BALINIT® X.CEED immensely multiplies the service life of the tool.

Around the world, customers in the metal and plastics processing industries take advantage of the global market leader's know-how. Balzers currently operates 47 coating centers at key industrial sites in Europe, North and South America, and Asia. All centers are equipped with latest-generation systems to guarantee the reproducibility of the company's high quality standards worldwide.

More from Electronic Components & Devices