Carbide Cutoff Systems can replace 3-4 production saws.
Press Release Summary: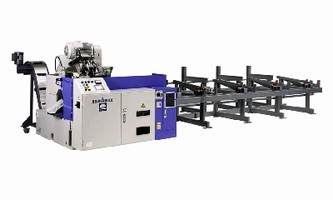 Designed for fully automatic cycles, Nishijimax CNC Carbide Cutoff Systems feature auto loaders and bar stockers. With NC Saw Spindle Feed Axis, precise feed rate is set automatically and input chip load is maintained. Powder metal saw blade brake enables zero vibration when blade enters cut, while gearbox oil chiller maintains constant gearbox temperature. Offering blade capacities from 2.75-9.00 in., systems feature rigid construction, which enables surface finishes from 40-80 rms.
---
Original Press Release:

Exclusively From Pat Mooney Inc., Nishijimax CNC Carbide Cutoff Systems Provide Unprecedented Productivity



Addison, IL - A single Nishijimax CNC Carbide Cutoff System can replace three to four production saws. Available exclusively from Pat Mooney Inc. - The Saw Company, Nishijimax Systems cut more parts per hour and more parts per blade than a standard production saw.

Developed in 1990, Nishijimax Cutoff Technology was originally introduced to improve the uptime demands of Japanese automotive forgers. By integrating Cutoff Technology into a sawing machine, Nishijimax has achieved dramatic reductions in operations (cuts from 50 sec. to 7 sec.), high RPM with minimal kerf and swarf and greater chip load than any other production saw.

Nishijimax Systems are equipped with a range of features that promote productivity. Designed for fully automatic cycles, all Nishijimax saws feature auto loaders and bar stockers. After a bar length has reached the remnant end, the loading table introduces a new bar on the in-feed conveyor. The gripper vise locates the bar and feeds it into trim cut position. During this cycle, the remnant end is discharged into a scrap bin, and the trim cut is made and discarded into a scrap bin. The machine then feeds to proper cut length and continues production. The machine will continue to cycle as long as bars remain on the table or until a pre-determined number of cuts are made. With Nishijimax's exclusive NC Saw Spindle Feed Axis, a precise feed rate is set automatically and input chip load is maintained. The saw blade feed rate is controlled via an AC Servo Motor with Encoder, a Mitsubishi Programmable Servo Drive and a precision ball screw. Compared to hydraulic systems, there is no fluctuation for temperature or condition of the oil. What's more, job set up takes less than five minutes with the CNC Controller.

Other features include Nishijimax's original powder metal saw blade brake for zero vibration when the blade enters the cut, a gearbox oil chiller to maintain constant gearbox temperature throughout 24/7 operation, thereby extending the life of the gearbox and the saw blades and an easily accessible oil pressure adjustment valve. Magnetic and drag style automatic chip conveyors are offered as options.

The rigid construction of the Nishijimax System contributes to its highly accurate operation, and surface finishes from 40 -80 RMS. The saw head travels on hardened and ground linear rails and the saw blade housing is mounted to the massive saw head. The saw blade is guided into the workpiece by ceramic guides that provide 6 point contact for zero deflection and blade wobble.

Nishijimax blade capacities range from 2.75" to 9.00"

Three types of Kanefusa "throw away" blades are available from Pat Mooney for use with the Nishijimax System, including TA-4 high performance and versatile blades, ST-4 higher grade blades for more demanding applications, and TI-4 featuring coated blade technology.

Pat Mooney is the exclusive importer and sales/service agent for Nishijimax Cutoff Systems. Serving the metal sawing industry for more than a half century, Pat Mooney has placed approximately 150 Nishijimax machines in service in the USA.
For more information on Nishijimax Systems from Pat Mooney Inc. - The Saw Company, call 800-323-7503, e-mail info@patmooneysaws.com, visit www.patmooneysaws.com, or contact Pat Mooney Inc. - The Saw Company, 502 S. Westgate Street, Addison, IL 60101, Phone: (800) 323-7503 Fax: (630) 543-5584.

For: Pat Mooney, Inc. - The Saw Company

502 South Westgate Street

Addison, IL 60101

(800) 323-7503

(630) 543-6222

Fax: (630) 543-5584

Email: info@patmooneysaws.com

www.patmooneysaws.com

More from Cleaning Products & Equipment