Capillary is suited for fine pitch wire bonding.
Press Release Summary: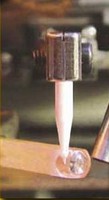 Available in range of wire diameters to address different wire bonding challenges, CuPRAplus(TM) Copper Capillary can handle copper wire from 0.8 mil to 3.0 thicknesses. Product works together with iCu copper wire and bonder kit, and ensures both 1st and 2nd bond quality for stable mass production.
---
Original Press Release:

Kulicke & Soffa Introduces New Copper Capillary



Kulicke & Soffa New Copper Capillary Ensures Greater 2nd Bond Quality for More Stable Mass Production

Fort Washington, PA - December 12, 2006 -- Expanding upon the capabilities of its highly successful copper capillary called CuPRA, Kulicke & Soffa Industries, Inc. (NASDAQ: KLIC) has developed the CuPRAplus(TM) that supports highly consistent and stable fine wire 2nd bonds, while maintaining the quality of the overall wire bonding process. By ensuring both 1st and 2nd bond quality during fine copper wire bonding, the CuPRAplus Copper Capillary offers a more stable mass production process.

"The formation of a fine wire 2nd bond in fine copper wire bonding has been a constant obstacle, mainly due to frequent tail bond break failures, inconsistent 2nd bond strength and an unstable bonding process window," notes Jack Belani, Vice President, Marketing and Business Units at K&S, "With its unique design and properties, K&S' CuPRAplus Copper Capillary provides for increased 2nd bond pull strength for a more stable and consistent quality bond throughout a process."

CuPRAplus Copper Capillary works together with K&S' iCu Copper wire and bonder kit to provide a complete solution for manufacturers looking to take advantage of the cost advantages offered by copper wire. While K&S' original CuPRA capillary offered superior bonding performance comparable to gold bonds on various pad materials, the CuPRAplus takes fine copper wire bonding a step forward by ensuring both a quality 1st and 2nd bond for superior process control and productivity.

"The CuPRAplus addresses fine copper wire bonding process challenges by ensuring 2nd bond quality and integrity along its lifetime," notes Yair Alcobi, K&S Bonding Tools Director of Marketing. "Easy to implement on any existing bonding platform, the CuPRAplus has outperformed conventional capillary designs when tested on numerous applications - from fine pitch wire bonding to low pin count devices."

Available in a range of wire diameters to address different wire bonding challenges, the CuPRAplus can handle copper wire from 0.8 mil to 3.0 thicknesses. It is another example of the innovative and technologically advanced products that K&S is developing in support of customers with transition plans from Au to Cu.

About Kulicke & Soffa
Kulicke & Soffa (NASDAQ: KLIC) is the world's leading supplier of semiconductor wire bonding assembly equipment. K&S is the only major supplier to the semiconductor assembly industry that provides customers with semiconductor assembly equipment along with the complementing packaging materials that contact the surface of the customer's semiconductor devices. The ability to provide these assembly related products is unique to Kulicke & Soffa, and allows us to develop system solutions to the new technology challenges inherent in assembling and packaging next-generation semiconductor devices. Kulicke & Soffa's web site address is www.kns.com.

More from Food Processing & Preparation