CAP-XX's New 3V Thin Prismatic Supercapacitors Eliminate the Need of LDO Voltage Regulator
Press Release Summary: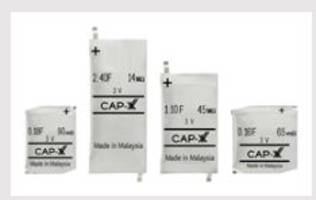 CAP-XX's 3V Thin Prismatic Supercapacitors are offered in versions ranging from 0.9mm to 1.9mm thick. Capacitors come in Z, 20mm x 15mm; A, 20mm x 18mm; W, 17.5mm x 28.5mm; S, 17.5mm x 39.5mm footprints. Units are suitable for FOBs and IoT devices in high-energy, high-power applications and provide a low leakage current of 1.5µA for a 500mF cell at 3V. Units meet IEC 62391 endurance standards and prevent the need of buck converter for stepping voltage down.
---
Original Press Release:
CAP-XX Develops Industry's First 3 Volt Thin Prismatic Supercapacitors
Provides peak power support to 3V coin cell batteries and eliminates need for 2.7V LDO regulator for less expensive, smaller, more energy-efficient designs with extended battery life
BERLIN - IDTECHEX EMERGING TECHNOLOGIES CONFERENCE (PRWEB) APRIL 11, 2018
CAP-XX (LSE:CPX), a leader in supercapacitors that deliver peak power to support or replace batteries, today announced it has developed the industry's first 3V thin, prismatic supercapacitors. The company will deploy its 3V technology first in thin prismatic form to meet demand for small, inexpensive, energy-efficient power solutions for thin wearables, key FOBs and other IoT devices. CAP-XX will then integrate the 3V technology into its larger prismatic supercapacitors, automotive modules and other products for high-energy, high-power applications.
The new 3V supercapacitors eliminate the cost and inefficiencies of the low-dropout (LDO) voltage regulator or buck converter often required to step the voltage down to work with the industry's existing 2.7V-rated thin, prismatic supercapacitors. CAP-XX is initially targeting markets using 3V coin cell batteries, where popular batteries such as the CR2032 have reasonable energy (~220mAh) but have trouble delivering the peak power (~100mA) needed for data collection and transmission. CAP-XX can handle those power bursts, and its new 3V supercapacitors can be placed directly across the battery without the intermediary LDO.
3V supercapacitors enter production trials; samples expected August 2018 with Q2 2019 production: 
To achieve the 3V, CAP-XX developed new materials and production techniques. The company has successfully tested prototypes at 3V, 70°C meeting the IEC 62391 requirement for endurance. CAP-XX has started production trials, with samples expected for customers by end of August 2018, and mass production in the first half of 2019. Pricing will start at less than US$1 in large volumes. CAP-XX will become the only manufacturer to provide a 3V supercapacitor in a thin, prismatic form factor.
The 3V versions, ranging from 0.9mm to 1.9mm thick, will come in the same footprints as CAP-XX's existing 2.7V thin prismatic supercapacitors: Z, 20mm x 15mm; A, 20mm x 18mm; W, 17.5mm x 28.5mm; S, 17.5mm x 39.5mm. Initial samples will be in the S package, with other footprints and the 0.6mm Thinline products to follow.
Specific benefits of the 3V supercapacitors over 2.7V cells that require an LDO:
Cost savings of US$0.27 to $0.31, or 20 to 25%, based on a single supercapacitor price of US$0.95 to $1
Saved battery energy, up to 30% over five years. Assuming constant power, an LDO dropping the battery voltage from 3V to 2.7V will lose 10% of the battery energy. On top of that, assuming the LDO draws 1µA, an additional 8.8mAh (4% of a typical CR2032's energy) is lost per year. The projected yearly energy savings therefore is: 10% + 4% = 14% after one year, 10% + 8% = 18% over two, 22% over three and 30% over five years.
Increased usable energy storage. For example, if an application operates down to 1.8V, then a 3V supercapacitor stores 42% more usable energy than a 2.7V one.
Improved power density, by 23%.
Low leakage current, approximately 1.5µA for a 500mF cell at 3V. As the battery discharges and voltage reduces, the supercapacitor leakage current also reduces to about 0.7µA at 2.5V.
Engineers might also consider a buck converter or a buck-boost design if the current required is only marginally more, say +20%-30%, than the coin cell can provide. CAP-XX projects that its 3V supercapacitor solution will be up to 50% cheaper than such a design. CAP-XX also projects such a design will still incur significant energy losses, it won't see the benefits of the higher currents from a 3V supercapacitor, and it will require more components.
Anthony Kongats, CAP-XX CEO, will cover the new developments in a paper he is presenting, "Using thin prismatic supercapacitors to support 3V coin cell batteries," on 12th April, 2018 at the IDTechEx conference in Berlin.
About CAP-XX supercapacitors: 
CAP-XX supercapacitors support power requirements including wireless communication (Bluetooth, Bluetooth Smart, Zigbee, Z-Wave, Ant, active RFID), electronic paper and OLED displays, haptic or tactile feedback, vibration alerts, GPS acquisition, and injection or inhalation system delivery. The supercapacitors work with thin-film, solid-state, and other low-power batteries such as coin cells/button cells, energy harvesting modules (solar, vibration/kinetic, RF, and other ambient energy sources), as well as inductive/wireless and cable/cradle fast-charging systems.
About CAP-XX 
CAP-XX (LSE:CPX) is a world leader in the design and manufacture of small supercapacitors and energy management systems used in portable and small-scale electronic devices, and large supercapacitor-based modules used in automotive and renewable energy applications. The unique feature of CAP-XX supercapacitors is their very high power density and high-energy storage capacity in space-efficient thin prismatic and compact cylindrical packages. These attributes are essential in many power-hungry applications. For more information about CAP-XX, visit http://www.cap-xx.com or email sales(at)cap-xx.com.