CAN Test Kit simplifies vehicle diagnostics.
Press Release Summary: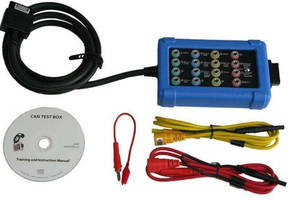 CAN Test Box allows access to 16 pins of diagnostic connector that is fitted to all modern vehicles, enabling user to check power, ground, and CAN Bus signal quality. Test leads enable connection of automotive scopes to monitor signals. Unit's 4 mm sockets are backlit by LEDs to show state of each pin. Powered by diagnostic connector, product also includes 2.5 m cable and pass-through connector to hook up scan tool and scope simultaneously.
---
Original Press Release:

New CAN-Bus Test Box from Pico Technology



The CAN Test Box is the latest diagnostic accessory from Pico Technology. From the makers of the Pico Automotive Diagnostics Kit and the PicoScope range of scopes, it's designed to make your job easier.

The CAN Test Box gives you easy access to the 16 pins of the diagnostic connector that is fitted to all modern vehicles. Depending on the configuration of the vehicle, this may allow you to check power, ground and CAN Bus signal quality. With the test leads supplied you can connect your PicoScope automotive scope, or any other suitable scope, to the CAN Test Box to monitor any signals present, such as the CAN High and Low signals. If you have a Pico Diagnostics Kit, you just need to select the "CAN Bus" test built into the software and the program will display the CAN signals correctly on the computer screen.

The CAN Test Box has a 2.5 metre cable so that you can work in a convenient location away from the diagnostic connector, and an additional pass-through connector so that you can hook up your scan tool at the same time as your scope. Its 4-mm sockets are backlit by LEDs to show you the state of each pin on the connector. The box is powered by the diagnostic connector, so no batteries or mains adaptor are needed. A CD-ROM is included with a training program and a detailed manual showing how to connect the unit to the vehicle and to the scope, and which signals are likely to be found on which pins of the connector.

Phil Rutt, Automotive Sales Distribution Manager at Pico Technology, explained: "The CAN Test Box lets you see exactly what's happening on the diagnostic connector and saves you from having to work in a confined space under the dashboard."

The new CAN Test Box is available from local distributors, or direct from Pico Technology at www.picoauto.com.

About Pico Technology

Established in 1991, Pico Technology is a worldwide leader in the design, development and manufacture of high-performance PC Oscilloscopes and Data Loggers. Since then, Pico has built up an impressive portfolio of products; including the PicoScope 2000, 3000 and 5000 series PC Oscilloscopes, the ADC-20 and ADC-24 High-Resolution Data Loggers and the multi-award-winning Automotive Oscilloscope Kit.

Pico Technology prides itself on offering innovative, high-quality and affordable alternatives to traditional bench-top test and measurement equipment, designed and built under the ISO9001:2000 quality system. Pico Technology supports a network of distributors in over 60 countries worldwide who are helping to build and maintain its enviable reputation in the industry.

More information on Pico Technology can be found at www.picoauto.com.

Pico Technology and PicoScope are internationally registered trademarks of Pico Technology.

Related