Calibrated Sphere Detectors measure output of light sources.
Press Release Summary: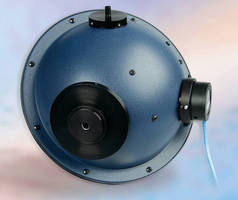 Integrating Sphere Detectors for measuring collimated (Model 819C) and divergent (819D) lasers deliver NIST traceable calibration uncertainties of less than 3%. Models with silicon detector operate from 400-1,100 nm and models with indium gallium arsenide detector cover spectral range from 800-1,650 nm. Available in 2, 3.3, and 5.3 in. dia sizes, they have fiber optic connector on north pole, allowing small amount of light pickoff for wavelength measurement without affecting calibration.
---
Original Press Release:

Newport's Improved Calibrated Integrating Sphere Detectors



o New sphere models provide excellent NIST traceable calibration uncertainties of less than 3 percent for most specified measurement ranges.

Irvine, CA - Newport Corporation, a worldwide leader in laser and photonic solutions that Make, Manage and Measure Light®, announces the newly enhanced calibrated Integrating Sphere Detectors. Ideal for measurement of output light power of high-power light sources, the spheres optimize the measurement geometry for laser beams and other light sources, whether collimated or divergent. The new series includes Model 819C (collimated) and Model 819D (divergent); both deliver excellent NIST traceable calibration uncertainties of less than 3 percent for most measurement ranges specified.

The calibrated integrating sphere models with a silicon (Si) detector operate from 400-1100 nm, and the ones with indium gallium arsenide (InGaAs) detector cover the spectral range from approximately 800-1650 nm. To accommodate various power range requirements, the calibrated integrating spheres are available in 2-inch, 3.3-inch, and 5.3-inch diameters.

The new design includes a robust port frame plus a variety of attachments and accessories to provide greater configuration flexibility. All sizes of the spheres include an SMA fiber optic connector on the north pole as a standard feature, allowing a small amount of light pickoff for wavelength measurement or any further analysis, without affecting the overall system calibration.

For more information about Newport's Calibrated Integrating Sphere Detectors and related components/accessories, please visit: www.newport.com/sphere.

About Newport Corporation

Newport Corporation is a leading global supplier of advanced-technology products and systems to customers in the scientific research, microelectronics manufacturing, aerospace and defense/security, life and health sciences and precision industrial manufacturing markets. Newport's innovative solutions leverage its expertise in high-power semiconductor, solid-state and ultrafast lasers, photonics instrumentation, sub-micron positioning systems, vibration isolation, optical subsystems and precision automation to enhance the capabilities and productivity of its customers' manufacturing, engineering and research applications. Newport is part of the Standard & Poor's SmallCap 600 Index and the Russell 2000 Index.


More from Optics & Photonics