Cage Mill de-lumps and dries materials in one step.
Press Release Summary: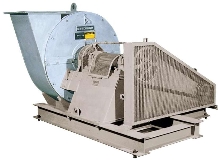 Constructed with completely welded shell, cage mill with flash dryer handles temperatures up to 1200°F for de-lumping and drying of materials such as lime sludge, silica sand, copper concentrate, and gypsum with up to 40% moisture. Unit, able to be used with hot gas stream from within plant, controls moisture level of incoming feed to maintain 1-2% moisture level. Models 41, 67, 80, 89, and 104 offer capacities from 10-80 tons/hr.
---
Original Press Release:

Stedman's Cage Mill with Flash Dryer De-Lumps/Dries Materials in One Step


Stedman's cage mill with flash dryer can de-lump and dry materials, such as lime sludge, silica sand, copper concentrate and gypsum (with up to 40% moisture) in one step. A completely welded shell is able to handle temperatures up to 1200°F. Standard cage mills can handle temperatures up to 300°F. Hot air (temperatures from 100°F to 1200°F) is introduced with the feed material and conveys de-lumped and dried material through the uptake duct of the cage mill. Use the unit with hot gas stream from within plant for tremendous fuel savings. It controls moisture level of incoming feed to maintain a 1% to 2% moisture level.

Other benefits include:

o Stedman models 41, 67, 80, 89 and 104 offer capacities from 10 to 80 tons/hour

o Low horsepower requirement for energy saving benefit

o Low mill speed depending on material and moisture content

o Re-circulating oil system included with unit to control bearing temperature

For more information or testing procedures contact Stedman, Sales Department, P.O. Box 299, 129 Franklin St., Aurora, IN 47001. Telephone: 800-262-5401 or 812-926-0038 or Fax 812-926-3482. E-mail: prnwpr@stedman-machine.com. Website: www.stedman-machine.com.

Teresa Klotz, Public Relations
Tri-State Advertising
307 S Buffalo Street,Warsaw, IN 46580
Ph:574-267-5178, Fax:574-267-2965
teresa@tri-stateadv.com

Related