Cable-Tie Hook provides secure and removable mounting.
Press Release Summary: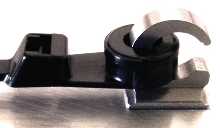 Type TDO self-clinching hook provides attachment points for mounting tie-bundled wires to electronic chassis or enclosures. It provides capability for users to temporarily remove wire bundle from mounting point. Hook installs in sheets from .040 to .125 in., uses no adhesives, which can fail over time, promotes EMI/RFI shielding, and reduces possibility of contamination by eliminating need for openings in enclosure or chassis.
---
Original Press Release:

PEM(R) Self-Clinching Cable-Tie Hooks Introduced By PEM(R) Fastening Systems


DANBORO, PA, January 14, 2002 -- New PEM self-clinching cable-tie hooks to hang bundled wires in an enclosure are now available from PEM Fastening Systems. The new (Type TDO) hook hardware joins the growing family of PEM self-clinching TY-D cable-tie mounts designed to provide secure attachment points for mounting wires to electronic chassis or enclosures without the problems associated with traditional mounting methods.

The new hardware's "hook" feature provides a unique capability for users to temporarily remove (then return) tie-bundled wires from their mounting points (which is often necessary when wires block access to components for service or when wires must be replaced). With the cable-tie hooks securely in place as designed, tie-bundled wires can simply be slipped off. When the bundled wires are ready to be returned to their mounting points, they can be easily re-hanged on their hooks.

All this is accomplished without cutting or damaging the cable ties and with wires remaining wrapped.

As with other PEM self-clinching cable-tie mounting hardware, the new cable-tie re-installs permanently without screws to save production time and money; utilize no adhesives that can fail over time and temperature cycling; and promote EMI/RFI shielding and reduce the possibility of contamination by eliminating the need for any openings in an enclosure or chassis.

PENM Type TDO self-clinching cable-tie hooks are available in several sizes and can be installed in sheets as thin as .040" (1.02mm) or as thick as .125" (3.18mm.)

More from Fasteners & Hardware