Bubble Trap provides in-line removal of bubbles.
Press Release Summary: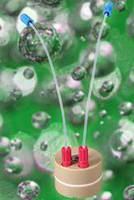 Positioned upstream of sensitive instrumentation, Omnifit® Bubble Trap protects sensors from damage and prevents errors caused by gas bubbles in flow analysis systems, liquid chromatography instruments, enzyme reactors, and flow-through biosensors. Utilizing ¼ in. 28 UNF female threaded ports and fittings, Trap easily connects to in-line systems. Unit is pressure rated up to 30 psi and has typical operating range of 0.5-2.0 mLpm.
---
Original Press Release:
Bio-Chem Fluidics Introduces Omnifit® Bubble Trap
In-line removal of bubbles in laboratory flow analysis instrumentation Boonton, NJ (May 11, 2009) - For in-line removal of bubbles in aqueous solutions, Bio-Chem Fluidics introduces the Omnifit® Bubble Trap. The product protects valuable sensors from damage and prevents errors caused by gas bubbles in flow analysis systems, liquid chromatography instruments, enzyme reactors and flow-through biosensors. The Bubble Trap is positioned upstream of sensitive instrumentation and any bubbles are forced through a micro-porous, hydrophobic membrane while the fluid is retained in the Trap. If gas bubbles are formed in-line or your pump delivers air instead of liquid, the outlet flow will stop. Spare membranes are available and can be replaced quickly and easily. Using ¼"-28 UNF female threaded ports and fittings, the Bubble Trap quickly and easily connects to in-line systems. Pressure rated up to 30 psi, operating range is dependent upon the amount of bubbles in the liquid, but is typically 0.5 to 2.0 ml per minute. Up to 6ml/min can be achieved if few bubbles are present in the liquid. For more information on Bio-Chem Fluidics' Omnifit® Bubble Traps, e-mail info@biochemfluidics.com, visit www.biochemfluidics.com or call (973) 263-3001. Bio-Chem Fluidics manufactures inert, high reliability, solenoid-operated pinch valves, isolation valves, dispensing pumps and manifolds for a wide range of industries including analytical chemistry, clinical diagnostics and medical device manufacturers. These fluid handling systems are supported by the company's line of high performance, inert fluid transfer components including fittings, connectors, manual valves, solvent safety bottle caps, and low-pressure chromatography columns and accessories. Bio-Chem Fluidics' staff of design and prototyping experts can offer simple modifications of standard products as well as completely customized designs. Enquiries to: John Tully Bio-Chem Fluidics 85 Fulton Street Boonton, NJ 07005 USA Tel: +1 973.263.3001 Fax: +1 973.263.2880 E-mail: info@biochemfluidics.com Website: www.biochemfluidics.com
More from Electrical Equipment & Systems