Brushless Motor Pre-Driver IC targets automotive EPS systems.
Press Release Summary: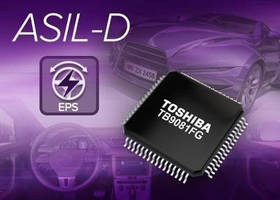 Developed to be compliant with ASIL D, Model TB9081FG is intended for use in electric power steering systems. Device integrates 3-phase pre-driver circuits, fail-safe relay pre-driver circuits, and motor current detection circuits, with range of failure detection circuits, including VB over/under voltage, VCC over/under, over temperature, and short detection. Housed in 12 x 12 x 1.6 mm LQFP64 package, IC provides 11 pre-driver channels and operates from -40 to 125°C at 4.5–18 V.
---
Original Press Release:

Toshiba Brushless Motor Pre-Driver IC Targets Automotive EPS



New driver IC supports advanced functional safety requirements specified in ASIL D



SAN JOSE, Calif., – Toshiba America Electronic Components, Inc. (TAEC)*, a committed leader that collaborates with technology companies to create breakthrough designs, today announced a brushless DC motor pre-driver IC for use in electric power steering (EPS) systems. The new TB9081FG was developed to be compliant with Automotive Safety Integrity Level D (ASIL D), the most rigorous measure defined within functional safety-based standard ISO26262.



The ISO26262 certification recognizes that a company's processes or products for vehicle electrical and electronic systems meet the stringent criteria specified in the standard, and provides third parties with an independent means of assessing the capabilities of a potential supplier. The TB9081FG joins a robust portfolio of brushed and brushless motor driver ICs that address a range of automotive applications, including several that meet these rigorous specifications.



"Demand for safety-critical automotive systems such as EPS continues to rise as automakers and their electronics suppliers strive to meet the requirements of ASIL D," said Deepak Mithani, senior director, Mixed-Signal Business Unit, System LSI Group at TAEC. "Toshiba is committed to ensuring that our customers have access to the safety-optimized components they need to build and integrate these advanced systems."



The new TB9081FG motor pre-driver IC integrates key main functions, including three-phase pre-driver circuits, fail-safe relay pre-driver circuits and motor current detection circuits, with a range of failure-detection circuits to build systems geared for functional safety: built-in VB over/under voltage detection, VCC over/under detection, over temperature detection, and short detection. The diagnostic circuit in the failure-detection circuit identifies any latent faults, while the fail-safe relay pre-driver circuits drive the semiconductor relay connections between the motor and MOSFET and between the power-supply side and MOSFET. Customers can set the system to respond to detected failures by using the input setting of the serial peripheral interface to either stop the external MOSFET or switch to external control of the MOSFET using MCU.



Housed in a 12mm x 12mm x 1.6mm LQFP64 package, the TB9081FG features 11 pre-driver channels and operates at 4.5V to 18V. Voltage drop caused by cranking after idling reduction is accommodated by improving battery operation voltage range down to 4.5V. Operating temperatures for the device range from -40 to 125 degrees C.



Toshiba has carried out a range of functional safety analyses to simulate various system failures and will provide customers with documentation to support safety analysis and design.



Availability

Sample shipments are under way. Mass production is scheduled to start in August 2017.



*About TAEC

Through proven commitment, lasting relationships and advanced, reliable electronic components, Toshiba enables its customers to create market-leading designs. Toshiba is the heartbeat within product breakthroughs from OEMs, ODMs, CMs, VARs, distributors and fabless chip companies worldwide.  A committed electronic components leader, Toshiba designs and manufactures high-quality flash memory-based storage solutions, solid state drives (SSDs), hard disk drives (HDDs), solid state hybrid drives (SSHDs), discrete devices, custom SoCs/ASICs, imaging products, microcontrollers, wireless components, mobile peripheral devices, advanced materials and medical tubes that make possible today's leading smartphones, tablets, cameras, medical devices, automotive electronics, industrial applications, enterprise solutions and more.



Toshiba America Electronic Components, Inc. is an independent operating company owned by Toshiba America, Inc., a subsidiary of Toshiba Corporation, Japan's largest semiconductor manufacturer and the world's sixth largest semiconductor manufacturer (Gartner, 2014 Worldwide Semiconductor Revenue Estimates, December 2014). Founded in Tokyo in 1875, Toshiba is at the heart of a global network of over 590 consolidated companies employing over 200,000 people worldwide. Visit Toshiba's web site at www.toshiba.co.jp/index.htm.



© 2015 Toshiba America Electronic Components, Inc. All rights reserved.



Information in this press release, including product pricing and specifications, content of services and contact information, is current and believed to be accurate on the date of the announcement, but is subject to change without prior notice. Technical and application information contained here is subject to the most recent applicable Toshiba product specifications.



COMPANY CONTACT:

Deborah Chalmers

Toshiba America Electronic Components, Inc.

Tel.: (408) 526-2454

deborah.chalmers@taec.toshiba.com



Web Site: http://www.toshiba.com/taec

More from Electrical Equipment & Systems