Broadband Microwave Switch operates at up to 26.5 GHz.
Press Release Summary: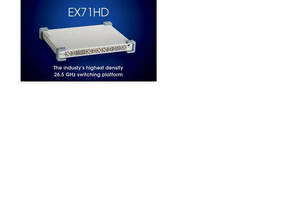 Suited for reconfigurable ATE applications, EX71HD high-density, modular switch addresses wide range of applications with SPDT, SP4T, SP6T building blocks configured to meet specific signal routing requirements, such as 6 x 6 matrixes, 1 x 16 multiplexer, and other combinations. Switch is front panel pluggable and when combined with built-in relay odometer, facilitates quick field maintenance. Built-in web-based GUI simplifies programming by enabling path level configurations.
---
Original Press Release:

VTI Expands Broadband Microwave Switch Family



VTI Instruments Corporation is pleased to announce the expansion of their broadband RF and microwave signal distribution family with the addition of the EX71HD high-density, modular 26.5 GHz microwave switch.

The EX71HD is designed to address applications that demand maximum performance, flexible design options, and an operating range up to 26.5 GHz. It is ideal for reconfigurable ATE applications where signal integrity must be maintained when routing critical signals between the device(s) under test and instrumentation such as spectrum analyzers, high frequency oscilloscopes, synthesizers, and network analyzers.

"Switch systems that lack signal transparency destroy signal integrity, so why invest in expensive instrumentation and then spend hours processing distorted signals?," said Jon Semancik, VTI's Director of Marketing. "The EX71HD is an ideal broadband test system core enabling high-integrity signal switching between multiple sources and measurement instruments."

A wide range of applications can be easily addressed with SPDT, SP4T, SP6T building blocks configured to meet specific signal routing requirements, such as 6 x 6 matrixes, 1 x 16 multiplexer, and a multitude of other combinations. All switches are front panel "pluggable", and when combined with the built-in relay odometer, facilitate quick field maintenance and service activities. Automatic power up states, path level configurations, and exclude lists simplify programming and optimize system level performance.

Programming is greatly simplified by using the built-in web-based graphical user interface (GUI) to configure unique path level assignments, eliminating time consuming programming and debugging steps. While the open architecture hardware platform and software-based communications interface provides the foundation for a common, corporate-wide solution.

For more information, please visit:
http://www.vtiinstruments.com/ProductDescription.aspx?ProductID=1259.

About VTI Instruments Corporation.

VTI delivers precision instrumentation for electronic signal distribution, acquisition, and monitoring, which is used in the world's most demanding test applications. Our solutions provide reliable data, first time, every time. Serving the aerospace and defense, power generation, energy, automotive and commercial electronics industries, VTI's solutions allow our customers to optimize their capital investment through product longevity while ensuring unmatched measurement integrity and data reliability. ISO 9001 certified, with plants in the U.S., Europe and Asia, worldwide product support is provided through a network of VTI certified engineering representatives. VTI is a sponsor member of the VXI Consortium, a founding member of the LXI Consortium and an active member of the VITA open standards organization. For additional information, please visit www.vtiinstruments.com.

2031 Main Street,
Irvine,
CA 92614
Tel. 949.955.1894
Fax 949.955.3041

More from Non-Industrial Products