Broadband IR Laser Mirrors exhibit high damage thresholds.
Press Release Summary: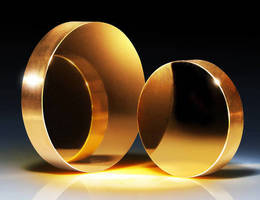 Available in 25 and 50 mm dia sizes, RoHS-compliant Broadband IR Laser Mirrors feature copper substrate. Resulting laser damage threshold is 50 kW/cm² (typ), and substrate also dissipates excess laser-generated heat to promote mechanical stability. Suited for demanding IR laser applications, such as those using quantum cascade or CO2 lasers, mirrors feature greater than 98% reflectivity from 2–20 µm with surface accuracy of 1/20λ at 10.6 µm and Clear Aperture (CA) of 90%.
---
Original Press Release:

Broadband IR Laser Mirrors Feature Copper Substrate to Dissipate Excess Heat



Mirrors feature high damage thresholds



Barrington, N.J. — Edmund Optics® (EO), the premier provider of optical components, introduces its new Broadband IR Laser Mirrors. These mirrors feature high damage thresholds and are ideal for demanding infrared (IR) laser applications, such as those using quantum cascade or CO2 lasers.



Copper has superior mechanical stability vs. other substrates



Broadband IR Laser Mirrors utilize a copper substrate, which significantly increases their laser damage threshold to 50kW/cm², typical. The copper substrate dissipates the excess heat generated from high power IR lasers, giving it superior mechanical stability when compared to other substrates.



Greater than 98% reflectivity from 2-20 µm



RoHS compliant Broadband IR Laser Mirrors feature greater than 98% reflectivity from 2-20 µm with a surface accuracy of 1/20λ at 10.6 µm with a Clear Aperture (CA) of 90%. Broadband IR Laser Mirrors are available in both 25 mm and 50 mm diameter sizes; they are in-stock and available for immediate delivery for fast turnaround and excellent value.



About EO:

Edmund Optics® (EO) is a leading producer of optics, imaging, and photonics technology for R&D, electronics, semiconductor, pharmaceutical, biomedical, and military markets around the globe. EO is the world's largest supplier of off-the-shelf optical components. Customers can purchase items by contacting EO at 1-800-363-1992, via the catalog, or via the website at www.edmundoptics.com



Company Contact:

Kirsten Bjork-Jones

Director Global Marketing Communications

Edmund Optics®, Inc.

101 East Gloucester Pike

Barrington, NJ 08007 U.S.A.

Phone: 1-800-363-1992

Fax: 1-856-573-6295

email: kbjork-jones@edmundoptics.com

More from Test & Measurement