BriskHeat Presents Latest Cartridge Heaters with 304-Stainless Steel Sheath
Press Release Summary: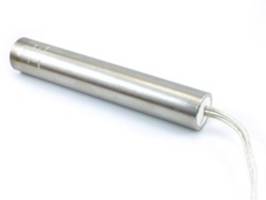 The new line of Cartridge Heaters are suitable for applications in which high operating temperature or heavy vibrations are present. The units are offered with a Nickel-Chromium resistance wire that improves the life of heaters. The high-purity magnesium-oxide fill of the heaters provides maximum dielectric strength and thermal conductivity whereas the stainless steel sheath offers oxidation resistance in various environments.
---
Original Press Release:
BriskHeat Launches New Line of Cartridge Heaters Ready to Meet the Needs of the Industrial Heating Industry
New high-density, high-efficiency swaged cartridge heaters are now available and ready to ship
COLUMBUS, OHIO (PRWEB) AUGUST 30, 2018 - BriskHeat, a leading provider of flexible heating, insulating, and temperature control solutions, announced today it has released a line of durable and efficient cartridge heaters, available in a variety of lengths and diameters, that are in stock and ready for delivery usually within 24 hours.
"BriskHeat has a wide selection of sizes that are ready to ship as soon as the order comes in," said Patrick Doyle, Vice President of Business Development, BriskHeat. "Additionally, if you shop online or talk to your distributor and we don't have the cartridge heater you're looking for, we can provide a custom heater in under two weeks or complete an expedited request in as little as a day."
BriskHeat cartridge heaters are designed for applications where high operating temperatures or heavy vibrations may be present. The 304 stainless-steel sheath provides oxidation resistance in a wide variety of environments. High-purity magnesium-oxide fill allows maximum dielectric strength and thermal conductivity. Nickel-Chromium resistance wire gives the heaters maximum life, and the wire is evenly wound for better heat distribution.
"Through the years, many of our customers have asked BriskHeat to offer cartridge heaters. We've seen the need in a number of industries such as plastics, blow molding, medical, packaging, and die casting, so we're very pleased to offer this product line," added Doyle.
To see BriskHeat's full range of innovative heating solutions, visit https://www.briskheat.com/ or call 888-501-7491.
About BriskHeat 
Since 1949, BriskHeat has provided flexible heating solutions used for freeze protection, condensation prevention, flow/viscosity control, vacuum bake-out, composite curing, and temperature process control. BriskHeat's primary manufacturing facilities and headquarters are located in Columbus, Ohio. BriskHeat has a worldwide sales network including sales offices in Taiwan, China, Germany, France and Austria, as well as a manufacturing facility in Vietnam. In 2017, BriskHeat was named to the Inc. 5000 list of fastest-growing private companies in America. Follow BriskHeat on Twitter (@BriskHeat), on Facebook or on LinkedIn.
Contact Information
Craig Wilson
BriskHeat
http://www.briskheat.com
614- 294-3376
More from Electrical Equipment & Systems