Bosch Rexroth's Subsea Valve Actuator Receives Award of Merit in 36th Annual Woelfel Best Mechanical Engineering Achievement Award at OTC 2019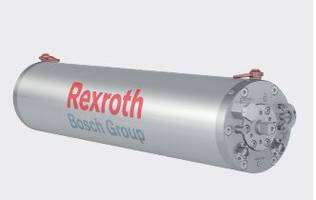 Unique combination of electrohydraulic and electromechanical operation provides key technology to help bring about the All Subsea Factory vision for offshore oil and gas production.
Bosch Rexroth's innovative new Subsea Valve Actuator (SVA) received the Award of Merit as one of five finalists in the 2019 Woelfel Best Mechanical Engineering Achievement Award. This award was presented at the Offshore Technology Conference in Houston on May 6, 2019 by the American Society of Mechanical Engineers (ASME). The SVA was recognized as a unique, new undersea system combining an electromechanical actuator with a hydrostatic drive, providing a safer, cleaner, more efficient and modular solution for subsea valve activation.
Bosch Rexroth developed the SVA to help address some of the challenges and shortcomings associated with either purely electromechanical or electrohydraulic actuator technology used on the sea floor for oil and gas exploration and production systems.
Undersea electromechanical systems do not have the complexities of conventional topside hydraulic systems, but require more space. Hydraulic actuators save space due to greater power density. However, they also require a large HPU and topside equipment, plus long hydraulic supply lines and couplers with the potential to leak fluid.
"The SVA has the best advantages of both electromechanical and electrohydraulic actuation: It provides the power density of hydraulic actuation for large gate valves with a simpler electric interface that eliminates the need for hydraulic umbilicals," said Dr. Alexandre Orth, Bosch Rexroth AG, Sr. Manager, Marine and Subsea Technologies. "Bosch Rexroth is honored that the ASME has recognized the ingenuity and value of the SVA by receiving the Award of Merit at the 2019 Woelfel Best Mechanical Engineering Achievement Award competition."
As one of the cosponsors of the annual Offshore Technology Conference (OTC), each year the Petroleum Division of ASME's Energy Sources & Processing Segment grants the Woelfel Best Mechanical Engineering Achievement Award. The award recognizes a product, device or system displayed at the OTC Conference that best reflects innovation and/or practical use of mechanical engineering in solving problems, improving design or maximizing performance.
The SVA is a key component of a new concept arising for offshore production: The All Subsea Factory. This concept reflects the market trend to move all the equipment needed for the offshore exploration and production of oil and gas (petroleum hydrocarbons) down to the seabed itself. The main benefits of this technology are increased automation, safety and efficiency, with considerable reductions in both cost and negative impacts to the environment.
The SVA is designed to serve in any subsea production system—even in shallow water—but its benefits increase with the applied water depth and tie-back distance, and is therefore a good solution for ultra-deep production fields.
For more information, please visit http://www.boschrexroth.com/subsea.
About Bosch Rexroth:
As one of the world's leading suppliers of drive and control technologies, Bosch Rexroth ensures efficient, powerful and safe movement in machines and systems of any size. The company bundles global application experience in the market segments of Mobile Applications, Machinery Applications and Engineering and Factory Automation. With its intelligent components, customized system solutions and services, Bosch Rexroth is creating the necessary environment for fully connected applications. Bosch Rexroth offers its customers hydraulics, electric drive and control technology, gear technology and linear motion and assembly technology, including software and interfaces to the Internet of Things. With locations in over 80 countries, more than 32,300 associates generated sales revenue of roughly 6.2 billion euros ($7.3 billion) in 2018.
To learn more, please visit www.boschrexroth-us.com.
About Bosch:
The Bosch Group is a leading global supplier of technology and services. It employs roughly 410,000 associates worldwide (as of December 31, 2018). According to preliminary figures, the company generated sales from operations of 77.9 billion euros ($92 billion) in 2018. Its operations are divided into four business sectors: Mobility Solutions, Industrial Technology, Consumer Goods and Energy and Building Technology. As a leading IoT company, Bosch offers innovative solutions for smart homes, smart cities, connected mobility and connected manufacturing. It uses its expertise in sensor technology, software and services, as well as its own IoT cloud, to offer its customers connected, cross-domain solutions from a single source. The Bosch Group's strategic objective is to deliver innovations for a connected life. Bosch improves quality of life worldwide with products and services that are innovative and spark enthusiasm. In short, Bosch creates technology that is "Invented for life." The Bosch Group comprises Robert Bosch GmbH and its roughly 440 subsidiary and regional companies in 60 countries. Including sales and service partners, Bosch's global manufacturing, engineering and sales network covers nearly every country in the world. The basis for the company's future growth is its innovative strength. At 125 locations across the globe, Bosch employs some 69,500 associates in research and development.
Additional information is available online at www.bosch.com, www.iot.bosch.com, www.bosch-press.com, www.twitter.com/BoschPresse.
Godfrey
Todd Walter
40 N. Christian Street
Lancaster, PA 17602
Telephone (717) 945-1893
twalter@godfrey.com
Contact for Journalists:
Bosch Rexroth Corporation
Susan Strauss
2315 City Line Road
Bethlehem, PA 18017
Telephone (610) 694-8352
susan.strauss@boschrexroth-us.com
More from Electronic Components & Devices