Boron Rings are oriented radially.
Press Release Summary: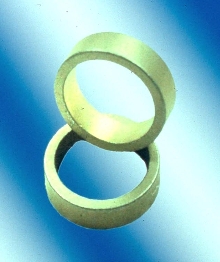 Made of sintered neodymium iron, single-piece Boron rings have radially oriented magnetic field. Because ring is single piece, and all grinding processes can be done prior to magnetizing and assembly. Polarization is single pole on outside with opposite pole on inside of ring, or alternating configuration with multiple poles on OD or ID. Parts can be magnetized in assembled state, or externally. Rings are available in various materials.
---
Original Press Release:
Magnetic Component Engineering Offers Radially Oriented Neodymium Iron Boron Rings

TORRANCE, CALIF. (December 3, 2001) - Magnetic Component Engineering, Inc. (MCE), a designer and manufacturer of high performance magnets and magnetic assemblies, is now offering radially oriented sintered Neodymium Iron Boron rings.

"This new configuration is giving customers the ability to design new products and redesign existing products with a very cost effective solution," said Brian Beeler, MCE National Sales Manager.

Previously, to achieve a radially oriented magnetic field, magnet arcs were used - typically a set of eight to twelve arcs per ring. The magnet arcs were oriented through the centerline and magnetized prior to assembly. While this enabled the production of high performance magnet assemblies (voice coil motors VCM, linear motors and actuators), the cost of the magnets and labor to assemble the arcs into a ring was prohibitive for large productions. Generally, the magnet assembly required in-process grinding to ensure correct tolerances after assembly. This process was expensive, since it generally had to be performed after the magnets were magnetized. Similar technologies were being used for rotor or stator assemblies for motors, making the process labor intensive and difficult to automate.

"MCE's radially oriented rings change the whole equation," Beeler said. Since the ring is a single piece, all grinding processes can be done prior to magnetizing and assembly. Even if a surface treatment is required, it can also be performed prior to magnetizing. Assembly costs are significantly reduced, and assembly can be easily automated for mass production. The polarization can be either a single pole on the outside with the opposite pole on the inside of the ring, or if the customer desires, an alternating configuration (multiple poles on the outside diameter or inside diameter) can be achieved. Parts can be magnetized either in the assembled state, or externally.

Radially oriented rings can be made in a variety of materials with energy products ranging from 28 MGOe to 40MGOe. This allows the customer to obtain the required performance for demanding applications. Surface treatment is recommended, but not necessary.

"MCE has always been on the cutting edge of technology, as evidenced by our advanced processes, equipment and information-based systems," said Ms. Linda Montgomerie, President of MCE. "And our radially oriented configuration further demonstrates MCE's commitment to forward thinking."