BNC A/B Switches offer remote control.
Press Release Summary: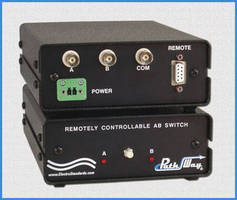 With impedance requirement of 50, 75, and 93 Ω, respectively, Models 7202, 7302, and 7402 allow for quick connection to any 1 of 2 BNC interface devices via common port. Units include 3 BNC female connectors labeled A, B, and Common. Front panel pushbutton enables manual control, while RS232 serial port supports remote control. In event of power loss, switches retain last position and continue to pass data. Use of network switches eliminates need to plug and unplug cables from equipment.
---
Original Press Release:

ESL Offers BNC A/B Switches with 50 Ohm, 75 Ohm or 93 Ohm Impedance to Support a Variety of Applications



Electro Standards Laboratories, Cranston, RI, has recently added 2 additional BNC Remotely Controllable A/B Switches to their product line up. This group of switches now includes Models 7202, 7302, and 7402. The switches are identical except for the impedance requirement which is 50-, 75-, and 93-Ohm respectively.



Each switch allows the quick connection to any one of two BNC interface devices via the Common port. The port connectors include (3) BNC female connectors labeled A, B and COMMON. The center pin and shell of each BNC connector is switched. The switches feature a front panel pushbutton for manual control and an RS232 Serial port for remote control. The remote control system includes (1) DB9 female Remote connector on the rear panel that accepts ASCII RS232 Serial Data commands for switch position and control.  The units retain last switch position in the event of a power loss and continue to pass data. Use of network switches eliminates the need to plug and unplug cables from equipment.



These switches are ideal for sharing laboratory test equipment having a BNC coaxial cable interface. On the company Website, each switch has an individual product page with a full-color detailed application diagram. A specification sheet is also available by simply clicking the Detailed Specs icon on the product page. Electro Standards Laboratories offers custom length 50 -, 75- and 93-Ohm BNC coaxial cables for switch installation.



The power supply that is provided with the switches is a UL approved 100VAC/240VAC, 50Hz/60Hz wall mount module that supplies 12 VDC, 500mA to the unit. This power supply has a 2-prong, US, non-polarized plug. Electro Standards also offers an optional Wide Range Power Module, Catalog Number 517277. This unit is CE, RoHS, and UL listed and is configured as a table mount. The module offers 100VAC/240VAC, 50Hz/60Hz. It features an IEC 60320 C14 inlet. With this optional power module, the 7202, 7302, and 7402 series of BNC A/B switches is ideally suited for international applications.



These switches are designed in a desktop configuration. The switch dimensions are 5.25" W x 7.25" D x 2.0" H (13.3 x 18.4 x 5.1 cm). Each switch weighs approximately 2.0 lbs. (0.91 Kg). The switches are available for export worldwide. The Model 7202 is also available at a discount to U.S. municipalities, schools, and government agencies via Electro Standards Laboratories' GSA Schedule GS-35F-0286V.



Model 7202 visit: http://www.electrostandards.com/ProductDetail/?productid=249

Model 7302 visit: http://www.electrostandards.com/ProductDetail/?productid=2313

Model 7402 visit: http://www.electrostandards.com/ProductDetail/?productid=2316



Electro Standards Laboratories manufactures a wide array of copper and fiber optic network switches for government, commercial, and industrial applications. For more information on Electro Standards' Network Switches, call 401-943-1164, email eslab@ElectroStandards.com, or visit www.ElectroStandards.com.



Tina Corticelli, Media Manager

Electro Standards Laboratories

36 Western Industrial Drive

Cranston, RI 02921

Tel: 401-943-1164

Fax: 401-946-5790

Email: eslab@ElectroStandards.com

More from Packaging Products & Equipment