BlueFlow Gear Pumps include pressure and temperature sensors.
Press Release Summary: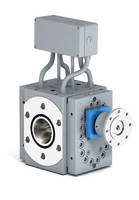 Offered in EP, MP and RP series, BlueFlow Gear Pumps are widely used in all geographic locations. Featuring 15% greater throughput without increasing rpm, pumps have a full range of sealing types along with cooling fins and has consistent melt properties with sensors. Product comes in a range of pumping capacities from 33 to 3,201 cc/revolution for throughput ranges up to 12,000 kg/hr. Pumps are used with PC or PMMA polymer viscosities from 2 to 20,000 Pas at 350°C
---
Original Press Release:
New Gear Pumps Operate More Efficiently, Improve Product Quality, And Are Available For All Applications Worldwide
New BKG® BlueFlow™ Range Harmonizes Technologies First Developed in Germany and the USA and Incorporates Enhancements for All Polymer and Hot Melt Processes Harmonizing the technologies of two world-renowned product lines, Nordson Corporation has created a new generation of gear pumps that provide up to 15% greater throughput without an increase in rpm and deliver a more consistent and stable polymer melt for enhanced product quality.
Nordson introduced the optimized pump design at K 2016, where it also highlighted the availability of a comprehensive range of these components with options that meet the needs of virtually all melt processing applications in all geographic regions (Hall 9, Stand A44/48).
BKG® BlueFlow™ gear pumps are a new-generation product range that improves upon well-known technologies developed separately by the Münster-based melt-filtration and gear pump business of Jan-Udo Kreyenborg, and by US-based Xaloy Corporation, both of which were acquired by Nordson in 2013 and 2012, respectively. Chief among the improvements are:
More efficient melt delivery, which makes it possible to achieve up to 15% greater throughput without increasing pump rpm; or reduce rpm to lessen shear stress on the polymer without sacrificing throughput.
Better sealing performance and more sealing options. The full range of sealing types are now available worldwide. In addition to air- and water-cooled systems, alternative designs with cooling fins are also available.
Improved control over melt parameters. The new gear pumps include pressure and temperature sensors at both the inlet and the outlet sides, contributing to more consistent melt properties and improved quality.
"BKG BlueFlow gear pumps provide better melt delivery performance for all processes and are particularly valuable in operations involving technical polymers, optically clear products, or other high-specification applications where it is important to minimize shear stress," said Sven Conrad, business unit director for melt delivery products. "In designing these new pumps, we have drawn from a unique combination of U.S. and German expertise that spans many decades."
Broad Range of Gear Pumps for Full Range of Applications in All Geographic Regions
Besides providing improved performance, the new BKG BlueFlow design harmonizes options previously available separately in different parts of the world. The product range now includes three series: "EP" for standard extrusion; "MP" for processes involving frequent color changes or heat-sensitive polymers; and "RP" for discharge out of vessels and reactors where no vacuum is applied. Pumps are available for the full spectrum of contingencies, including pumping capacities, pressure rates, and heating methods. While pumps are designated as "US" and "EA" (for Europe and Asia) because of regional differences in connecting and sealing, they all have the same core components, such as bearings, shafts, and sealing options. The availability of "US" and "EA" versions makes it possible to install BKG BlueFlow gear pumps as drop-in replacements for existing pumps.
Taken together, the BKG BlueFlow range includes gear pumps for film, sheet, pipe, profile, fiber, compounding, recycling, polymerization, and hot melt applications. A wide range of pumping capacities or specific volumes are available, ranging from 33 to 3,201 cc/revolution, for throughput ranges up to 12,000 kg/hr. Each pump size comes with either electrical or fluid heating and with either US or EA connections. The gear pumps are for use with polymer viscosities from 2 to 20,000 Pas and at temperatures up to 350 °C. All specifications are in metric units.
"The BKG BlueFlow portfolio is truly comprehensive, providing a great degree of flexibility for applications ranging from general-purpose to highly specialized," said Christian Schroeder, global product manager for melt delivery products. "Our product range includes a number of pump types that were available in one or the other of the earlier ranges but not both. For example, there is now a consistent global design for our MP series."
MP Series gear pumps in the BKG BlueFlow range are designed for processes involving several product changes a day and for sensitive or shear-critical polymers such as PC or PMMA for optical applications. It includes a piston-actuated self-cleaning procedure that facilitates purging, eliminating need to disassemble the pump, and prevents polymer degradation.
BKG BlueFlow gear pumps are supported by Nordson's worldwide sales and service network.
Nordson Corporation engineers, manufactures and markets differentiated products and systems used for the precision dispensing of adhesives, coatings, sealants, biomaterials, polymers, plastics and other materials, fluid management, test and inspection, UV curing and plasma surface treatment, all supported by application expertise and direct global sales and service. Nordson serves a wide variety of consumer non-durable, durable and technology end markets including packaging, nonwovens, electronics, medical, appliances, energy, transportation, construction, and general product assembly and finishing. Founded in 1954 and headquartered in Westlake, Ohio, the company has operations and support offices in more than 30 countries. Visit Nordson on the web at http://www.nordson.com.
Nordson Polymer Processing Systems provides customers with engineered components to melt, homogenize, filter, meter, and give shape to plastic and fluid coating materials. Nordson Corporation leverages the collective plastics industry experience from a series of strategic acquisitions to offer a uniquely broad portfolio of industry-leading technologies. Nordson delivers a full range of precision melt stream products — from screws and barrels for extrusion and injection molding — to filtration systems, pumps, and valves — to the extrusion dies and pelletizing systems to meet the constantly evolving needs of the polymer industry.
Nordson Corporation provides customers with local technical sales, service and remanufacturing capabilities through sales organizations and regional manufacturing facilities in over 30 countries. To learn more visit us at http://www.nordsonpolymerprocessing.com.
Mrs. Kirsten Engelhardt,
+49 (0) 251.21405.856.
Kirsten.engelhardt@nordson.com
More from Electronic Components & Devices