Black Oxide Process takes 30 minutes for most alloys.
Press Release Summary: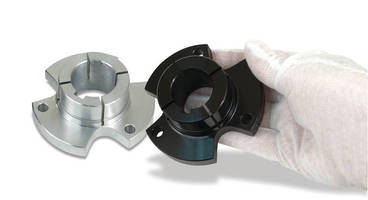 LUMICLAD(TM) black oxide process is in-house method for blackening aluminum forming satin black finish on all aluminum alloys. Non-dimensional, 1.5 micron, LUMICLAD finish is tightly adherent to aluminum substrate with no ruboff. Process utilizes dip-tank procedure, without requiring electrolytic chemicals to form coating. Utilizing tank setup that operates at 70-200°F, process line is designed to operate as self-contained, zero-discharge system.
---
Original Press Release:

Now, Blacken Aluminum In-House with the New LUMICLAD(TM) Process from Birchwood Casey - Simple Process Uses No Electrical Contacts



Eden Prairie, Minnesota: Birchwood Casey's new LUMICLAD(TM) black oxide process is a safe, in-house method for blackening aluminum forming a durable and attractive satin black finish on all aluminum alloys at low cost.

Nothing like it - the LUMICLAD process utilizes a simple dip-tank procedure, without requiring the use of electrolytic chemicals to form the coating, as does black anodizing. The non-dimensional (1.5 micron) LUMICLAD finish is tightly adherent to the aluminum substrate with no ruboff, serving as a suitable alternative to black anodizing for many types of industrial tooling and machine components, large and small.

Conventional black anodizing is widely used, but it is a long and complicated electrolytic process requiring experienced operators for consistent quality (most manufacturers shouldn't attempt it). Parts must be manually clamped onto spring-clip racks to ensure electrical contact, making it a high labor operation that is difficult to carry out economically. Because the LUMICLAD process requires no electrical current, no clamp-on racking is needed and labor costs are far lower. It is easy to achieve economical blackening of both large and small parts on racks and smaller parts handled in bulk. Small stampings, fasteners, screw machine parts or other low-value parts can be blackened easily at low cost.

The non-dimensional LUMICLAD finish will not shrink hole diameters or add measurable thickness. Part dimensions are easily maintained, without requiring critical surfaces to be undersized to allow for excessively thick coatings, as is the case with anodizing.

The LUMICLAD process is fast - 30 minutes for most alloys - and meshes well with workflow patterns, thereby eliminating the lengthy turnaround times and high costs of outside finishing. In-process inventory levels can be lowered because parts can be blackened on a just-in-time basis.

Operators report that the LUMICLAD process is very easy and safe to operate - no experience needed. Utilizing a tank setup that operates at 70 - 200°F, the process line is designed to operate as a self-contained, zero-discharge system. Rinse waters are purified and recycled by means of an ion exchange system.* No discharge permit is required because nothing enters the drain. The process line can be located almost anywhere in the plant.

Process lines are available from Birchwood Casey in all sizes, at modest cost. The process can be automated through the use of a CNC programmable hoist system.

Developed and guaranteed by the originator of the unique and widely used TRU TEMP® low temp black oxide process for ferrous metals. The LUMICLAD process is the first and only high quality method for blackening aluminum that doesn't involve the complexities and high costs of electrolytic black anodizing.

Call 952-937-7931 for Free Brochure. Or write to Birchwood Casey, 7900 Fuller Road, Eden Prairie, Minnesota 55344-9702. Fax: 952-937-7979. Visit the Birchwood Casey website at www.birchwoodcasey.com. Email: info@birchwoodcasey.com

Deep Link at birchwoodcasey/lumiclad

More from Fasteners & Hardware