Biometric Cyber Security Card is suitable for physical building entry.
Press Release Summary: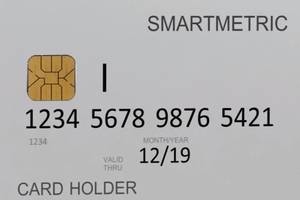 Biometric Cyber Security Card is used for accessing building, doorways and security desk identification. Unit features in-the-card biometric validation and card activation technology. Product is suitable for network access control and helps to secure on-the-spot identity security applications.
---
Original Press Release:
SmartMetric Biometric Cyber Security Card for the $14.82 Billion Security Access Market
Cybersecurity, Identity and Access Management Using World First Multi-Function Biometric Security Card by SmartMetric for the Projected $14.82 Billion Security Access Market
SmartMetric, Inc. (OTCQB: SMME) -- Cybersecurity and identity validation for network access control, physical building entry and secure on-the-spot identity security is now handled by the revolutionary biometric security card developed by SmartMetric.
SmartMetric has created an advanced biometric card that combines cyber security for network log on credentialing along with building and doorway access and security desk identification in a credit card sized (including thickness) card. This multifunction cyber, access and identity card is a revolutionary new product for the security world built on the in-the-card biometric validation and card activation technology developed by SmartMetric.
"From Governments to the workplace, everyone is wanting better, stronger security across the enterprise. Our new biometric multifunction security card provides a revolutionary biometric based solution that is portable, easily integrated and backward compatible to existing backend security infrastructure," today said SmartMetric's President and CEO, Chaya Hendrick.
The new multifunction biometric security card by SmartMetric is a revolutionary leap forward in the Cyber and Access Security world according to SmartMetric.
Access management market is estimated to grow from USD 8.09 billion in 2016 to USD 14.82 billion by 2021, at a CAGR of 12.9% between 2016 and 2021 according to a recent research report.
SmartMetric is evaluating various distribution partnerships with some of the largest companies in the Security and Identity market. The company intends to move forward quickly in partnership with established industry players allowing the company's biometric card product rapid adoption globally.
The company is also heavily involved in the credit card market having developed a fingerprint biometric activated and validated credit card. This allows banks to issue a biometric card that satisfies the growing demand by card customers for a stronger more secure credit card. The SmartMetric biometric credit card works with chip cards. There are more than 4 billion chip cards now issued by banks around the world.
To view the company website: www.smartmetric.com
Related