BioChem Fludics Electric Rotary Valve feature optoelectronic position sensor.
Press Release Summary: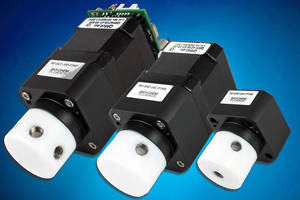 Designed to work with aggressive and reactive fluids, Electric Rotary Valve allows the fluid entering the valve follow an inert flow path, with motion provided by an optional stepper motor, and an optoelectronic position sensor providing the rotor's position to the control circuit. Chemically resistant, ERV features standard ¼"-28 UNF fluid port connections with stainless steel threaded inserts, and NEMA 17 stepper motors that allow easy integration into sophisticated systems.
---
Original Press Release:
New BioChem Fluidics Electric Rotary Valve Designed for Aggressive Flids
The Electric Rotary Valve from BioChem Fluidics is ideal for designers of analytical and laboratory devices to complete sample collection, loop injection or flow path selection applications. The valve is specifically designed to work with aggressive or reactive fluids.

Fluid entering the valve follows an inert flow path achieved by aligning orifices in a CTFE rotor and a PTFE body, precision fit together to ensure a tightly sealed interface. Motion is provided by an optional stepper motor. An optoelectronic position sensor inside the valve provides the rotor's position to the valve's control circuit.

The ERV has a chemically resistant, Teflon fluid path that is free of any metal parts. The resistance of the Teflon body to particulate and chemical adhesion reduces the frequency of valve seizure after instrument downtime.

The valve is available in a number of flow configurations that match most common applications. Standard ¼"-28 UNF fluid port connections with stainless steel threaded inserts, and NEMA 17 stepper motors allow easy integration into sophisticated systems. Since BioChem Fluidics machines the fluid path and valve body internally, the ERV can be customized upon request.

For more information, e-mail [email protected],
visit www.biochemfluidics.com or call (973) 263-3001.

Company Contact:
Chris Murphy
Bio-Chem Fluidics
85 Fulton Street
Boonton, NJ 07005
USA
Tel: +1 973.263.3001
Fax: +1 973.263.2880
E-mail: [email protected]
Website: www.biochemfluidics.com  

Press Contact:
Rob Dietrich
Halma Holdings PR Services
11500 Northlake Drive, Suite 306
Cincinnati, OH 45249
USA
Tel: +1 513.898.8007
Fax: +1 513.898.8008