BGA Socket connects all pins with 10 GHz bandwidth.
Press Release Summary: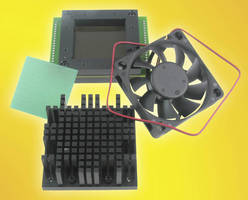 Designed for 1 mm pitch 1521 ball BGA, SG-BGA-8030 operates at bandwidths up to 10 GHz with less than 1 dB insertion loss. Contact resistance is 20 mΩ per I/O (typ). Mounted using supplied hardware on target PCB without any soldering, product incorporates heat sink and fan to dissipate 60 W. Integrated compression mechanism to socket lid facilitates BGA change, and package sizes accommodated by socket are 1mm pitch 40 x 40 mm, 39 x 39 ball array.
---
Original Press Release:

Socket Your 1mm Pitch BGA1521 Using GHz Bandwidth Elastomer Socket



EAGAN, MN -- Ironwood Electronics has recently introduced a new high performance BGA socket for 1mm pitch 1521 ball BGA - SG-BGA-8030. The socket operates at bandwidths up to 10 GHz with less than 1dB of insertion loss. The contact resistance is typically 20 milliohms per I/O. The socket connects all pins with 10 GHz bandwidth on all connections. The socket is mounted using supplied hardware on the target PCB with no soldering, and uses smallest footprint in the industry. The socket incorporates a heat sink and a fan to dissipate 60 Watts. The socket also features integrated compression mechanism to socket lid enabling easy change of BGAs. The specific package sizes accommodated by the socket are 1mm pitch 40mm x 40mm, 39x39 ball array. To use, drop IC into the socket, and apply down force using heat sink compression socket lid.



The SG-BGA-8030 sockets are constructed with high performance and low inductance gold plated embedded wire on elastomer as interconnect material between device and PCB. The temperature range is -35C to +100 C. The pin self inductance is 0.15 nH and mutual inductance of 0.025 nH. Capacitance to ground is 0.01 pF. Current capacity is 2 amps per pin.



Pricing for the SG-BGA-8030 is $2388 at qty 1. .

For a high resolution photo see:Â Â Â  http://www.ironwoodelectronics.com/press/PressReleasePhotos/C11360a_highres.jpg



Feel free to call or email if you have questions.



Ila Pal  • VP Marketing • Ironwood Electronics • 1335 Eagandale Ct • Eagan • MN 55121

High Performance IC Sockets and Adapters • ISO 9001:2008 • www.ironwoodelectronics.com

T: 800-404-0204Â • M: 651-900-1471Â •

[email protected]

• Skype: ila.pal • www.linkedin.com/in/ilapal