BGA Heat Sink Lid Socket operates at bandwidths up to 75 GHz.
Press Release Summary: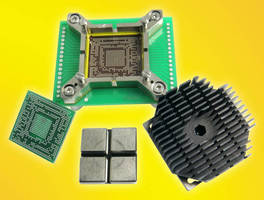 Constructed with elastomer contactor, GT-BGA-6008 sockets 27 x 27 mm, 0.8 mm pitch BGA package and operates up to 75 GHz with <1 dB insertion loss. Design dissipates 4.5 W using compression screw with heat sink fins and can be customized up to 100 W with modified fin design on top of screw and addition of axial flow fan. Socket mounts on target PCB without any soldering, swivel lid incorporates quick insertion method to accelerate IC changeout, and contact resistance is 20 mΩ/pin typ.
---
Original Press Release:

75 GHz Bandwidth Heat Sink Lid Socket for BGA715



Quickly and easily Socket your 27x27mm, 0.8mm pitch BGA packages on any application board with performance equivalent to direct solder version



EAGAN, MN -- Ironwood Electronics has recently introduced a new BGA socket design using high performance elastomer capable of 75 GHz, very low inductance and wide temperature applications. The GT-BGA-6008 socket is designed for 27x27 mm package size and operates at bandwidths up to 75 GHz with less than 1dB of insertion loss. The socket is designed to dissipate 4.5 watts using compression screw with heat sink fins and can be customized up to 100 watts with modified fin design on top of the screw and adding axial flow fan. The contact resistance is typically 20 milliohms per pin. The socket is mounted on the target PCB with no soldering, and uses very small real estate allowing capacitors/resistors to be placed close by. The socket is constructed with swivel lid which incorporates a quick insertion method so that IC's can be changed out quickly. The socket has center opening for thermocouple and thermal streaming. Compression plate has channels for thermal stream out.



The GT-BGA-6008 socket is constructed with high performance and low inductance elastomer contactor. The temperature range is -55 C to +160 C. Works with IC's such as BGA, 27x27mm with 32x32 array and 0.8mm pitch.



Pricing for the GT-BGA-6008 is $852 at qty 1; with reduced pricing available depending on quantity required.



High resolution photo: http://www.ironwoodelectronics.com/press/PressReleasePhotos/C13452a_highres.jpg



Feel free to call or email if you have questions.



Ila Pal, Ironwood Electronics

https://lh4.googleusercontent.com/-8BPiL-TCbDs/Ud2PkEpNPdI/AAAAAAAAABI/yDUfb4vM0xg/s250-no/eyeball_highres.jpghttp://res3.feedsportal.com/social/email.png  http://www.tinkerines.com/wp-content/uploads/2013/05/copyicon-twitter30.png http://res3.feedsportal.com/social/facebook.png http://res3.feedsportal.com/social/linkedin.png http://res3.feedsportal.com/social/googleplus.png http://www.tinkerines.com/wp-content/uploads/2013/05/copyicon-youtube30.png http://www.electronicworkplace.com/wp-content/uploads/2013/05/05523479-photo-logo-skype.png https://encrypted-tbn0.gstatic.com/images?q=tbn:ANd9GcRrNWMfZX3HSVZRsQ3ytUC009-euqHCC2CDs4mi3BNmPpouw1Kl

More from Electrical Equipment & Systems