Benchtop Reflow Oven features Android OS and touchscreen UI.
Press Release Summary: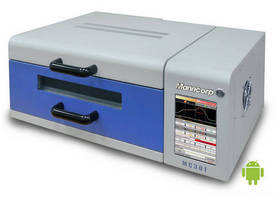 Simulating environment of inline reflow system, Wi-Fi-enabled MC-301 measures 27 x 19 x 11 in., features multi-zone heating chamber, and can be used for prototyping, manufacturability testing, and short-run batch production. Android control app lets SMT assemblers and product developers meet solder paste manufacturer specifications for preheat, soak, reflow, and cooling phases of recommended profiles. Also, heating/cooling rates in each stage are automatically calculated.
---
Original Press Release:

Android Operating System Controls New Benchtop Reflow Oven



An innovative Android-based operating system and high-resolution touchscreen user interface only begin to explain why Manncorp's new MC-301 Benchtop Reflow Oven is among its hottest new products for 2014.  By simulating the environment of an inline reflow system in a small footprint, the MC-301 is ideal for prototyping, manufacturability testing, and even short-run batch production.  Its exclusive Android control app allows surface mount assemblers and product developers to meet solder paste manufacturers' precise specifications for the preheat, soak, reflow, and cooling phases of their recommended profiles.  Heating and cooling rates in each stage are also automatically calculated to easily verify compliance with component and material requirements.



The system includes an internal thermocouple that can be used to measure and record actual temperatures at strategic locations on the PCB while soldering.  In the advanced mode, real-time feedback from the thermocouple can be used to control heater power and to establish optimal temperature settings for various applications.  Android architecture allows users to easily save, store, and transfer recorded data and process parameters conveniently across networks via integrated WiFi.



Unlike other batch reflow ovens, the MC-301 heating chamber is divided into multiple heating zones; each one assigned to its own channel of the temperature control system.  This advanced design eliminates thermal gradients within the oven and ensures minimal delta-T (±2 °C) across its 10" x 8" working area.  Rapid cooldown is achieved with the aid of high-efficiency intake fans that draw air through the bottom of the unit and out through the 3" exhaust port at the top rear.  Measuring only 27" x 19" x 11" and weighing in at less than 100 lbs., the MC-301 is an excellent choice for labs, schools, small production facilities, or other installations where space is often at a premium.



"The Android platform is the perfect fit for the MC-301," says Manncorp President, Henry Mann, "because it's so consistent with our objective to utilize cutting-edge technology to deliver superior products at reduced cost.  Android provided us so much built-in functionality, like WiFi and touchscreen, and it both simplified and accelerated the development of an advanced user interface.  Of course, the benchtop oven is a relatively simple application, but we already are planning on using Android for future generations of more advanced equipment that will be monitored and controlled remotely from mobile devices."



To learn more about the Android-based MC-301 Benchtop Reflow Oven from Manncorp, please go to http://www.manncorp.com/mc-301-benchtop-reflow.



Sales and support offices in three locations: East (Huntingdon Valley, PA), West (San Diego, CA) and Mexico.   www.manncorp.com



Paulette Kevolic

Marketing Coordinator

215-830-1200

pkevolic@manncorp.com

More from Paints & Coatings