Beamsplitters suit space-constrained applications.
Press Release Summary: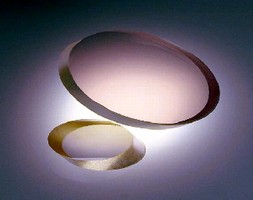 Featuring multilayer anti-reflection coating to minimize back reflections, TECHSPEC(TM) Elliptical Plate Beamsplitters are available in 1.0 mm thick model for ultra-tight spaces or 3.0 mm thick version with surface accuracy of ¼ wave. When beamsplitters are oriented at 45° in optical path, they create circular aperture equal to diameter of minor axis.
---
Original Press Release:

Edmund Optics® Introduces TECHSPEC(TM) Elliptical Plate Beamsplitters



Maximum beamsplitting efficiency for space-constrained application

August 10, 2007, Barrington, N.J. TECHSPEC(TM) Elliptical Plate Beamsplitters are designed to maximize beamsplitting efficiency while minimizing valuable mounting space. When the beamsplitter is orientated at 45º in the optical path, it creates a circular aperture equal to the diameter of the minor axis. The beamsplitters are available in two thicknesses: 1.0mm for ultra-tight spaces, or 3.0mm with an improved surface accuracy of 1/4 wave. They are available in both the popular VIS and NIR 50/50 beamsplitter coatings and feature a high efficiency multilayer antireflection coating to reduce back reflections.

Gregg Fales, Edmund Optics® Product Line Manager emphasized the advantages of their new component, "Our elliptical plate beamsplitters have been used in a number of space-constrained applications. They provide 40% more clear aperture than would a circular beamsplitter using the same amount of physical space, which has helped us design some compact, highly efficient illumination assemblies."

A complete range of Elliptical Plate Beam Splitters is in-stock and ready to ship at prices from $90. RoHS Certificates of Compliance are available for many models.

About EO:
Edmund Optics® (EO) is a leading producer of optics, imaging, and photonics technology for R&D, electronics, semiconductor, pharmaceutical, biomedical, and military markets around the globe. EO is the world's largest supplier of off-the-shelf optical components. Customers can purchase items by contacting EO at 1-800-363-1992, via the catalog, or via the website at www.edmundoptics.com

Company Contact:
Marisa Edmund
Vice President, Marketing
Edmund Optics, Inc.
101 East Gloucester Pike
Barrington, NJ 08007 U.S.A.
Phone: 1-800-363-1992
Fax: 1-856-573-6295
email: medmund@edmundoptics.com

More from Test & Measurement