Bead Mills reduce particles to submicron sizes.
Press Release Summary: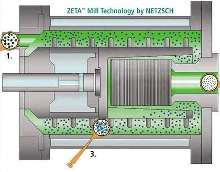 Horizontal Agitator Bead Mills grind particles with initial fineness of 1-20 micrometers down to 40-200 nanometers. In enclosed vessel filled with grinding media, agitator shaft activates media, creating shearing and impacting forces. Rotation of agitator imparts energy to surrounding media. Forces either fracture, tear, or crush particulate. Dynamic Cartridge Media Separator retains media in mill, while final product is evenly dispersed in liquid.
---
Original Press Release:
Netzsch Nano Grinding In Agitator Bead Mills
EXTON, PA, - As the world leader of custom-engineered grinding and dispersing systems, NETZSCH now leads the nano-revolution in engineering production-sized Agitator Bead Mills designed to grind particles to 200 nanometers and below. An alternative to difficult to clean ball mills and inflexible, noisy attritors, NETZSCH horizontal Agitator Bead Mills are engineered to manufacture lighter, smaller, more resilient and stronger materials in a versatile high energy, high flow system design. Grinding with NETZSCH bead mills is a top-down process, where particles with an initial fineness of 1 to 20 micrometers are milled to an average fineness of 40 to 200 nanometers using various types of grinding media. In an enclosed vessel filled with grinding media, the agitator shaft in the NETZSCH Bead Mill activates the media, creating shearing and impacting forces. The rotation of the agitator imparts energy to the surrounding media. These forces then act on the solids suspended in a liquid and either fracture, tear or crush the particulate, resulting in overall reduction in particle size. The NETZSCH patented Dynamic Cartridge Media Separator* retains the media in the mill while the final product, now dramatically reduced in size, is evenly dispersed in the liquid. The NETZSCH bead mill design is easy to operate, provides repeatable quality and precise temperature control, and requires less media than other designs. Typical applications for this type of submicron size reduction system include pharmaceuticals, polishing compounds, pigments, printing inks, paints, agricultural chemicals and magnetic coatings. NETZSCH Incorporated is the North American subsidiary of the globally operating group of NETZSCH companies. NETZSCH is the world's leading manufacturer of wet and dry grinding and dispersion equipment, progressing cavity pumps and filtration systems. NETZSCH Incorporated has been serving North America for more than 30 years. For more information on NETZSCH Agitator Bead Mill technology, contact: NETZSCH Incorporated, 610.363.8010, Fax: 610.363.0971 E mail: grinding@netzschusa.com. Visit our web site at: www.netzschusa.com
More from Electrical Equipment & Systems