Battery-Powered Milliohm Meter offers portable operation.
Press Release Summary: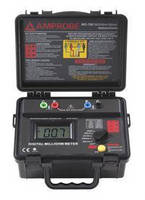 Offering accurate 4-terminal measurement, portable MO-100 enables users to check windings opens/shorts in motors, generators, and transformers; wire-to-wire connection resistances; heating elements testing; and contact resistance in critical electrical connections. Range maximums vary from 200.0 mW to 2,000 W, with min resolution of 100 µW. Protected against over-temperature and overvoltage conditions, instrument delivers accuracy of ±0.5% of reading ±2 digits over 5 to 131°F range.
---
Original Press Release:

Model: MO-100 Milliohm Meter



Diagnose potential failure with the MO-100, portable battery powered Milliohm Meter. Quickly check windings opens or shorts in motors, generators and transformers, wire-to-wire connection resistances, heating elements testing and contact resistance in critical electrical connections.


Accurate four terminal measurement down to 100µ ohms does not require test leads resistance compensation

Ranges from 200.0m ohms to 2000 ohms with minimum resolution of 100µ Ohm

Measurement precision with three test currents with over-temperature protection

Protection against inadvertent connection to overvoltage

Large LCD

Potential lead resistance, current lead resistance checks

AUTO-HOLD and AUTO-OFF features

Lightweight, robust & compact.

Indicates measurement errors due to temperature or connection problems

"O-Ring" sealed enclosure

Battery powered

IEC / EN 61010-1

Test leads, Instruction manual, Shoulder belt, 1.5V(AA) x 8 Batteries

FEATURES
Size: 250(L) x 190(W) x 110(D)mm (9.8 x 7.5 x 4.3 in)
Weight: 1500 g (3.3 lb)
Safety: N10140

Instruction Manual: Yes

SPECIFICATIONS
Measuring Ranges: 0-200.0m ohms in steps of 100µohm

0-2000m ohms in steps of 1m ohm

0-20.00 ohms in steps of 10m ohm

0-200.0 ohms in steps of 100m ohm

0-2000 ohms in steps of 1 ohm
Accuracy: ±0.5% of reading ±2 digits over the operating temperature range, -15°C to 55°C (5°F to 131°F), with the supplied test leads
Test Current: 1mA =>2000 ohms range

10mA =>200/ 20 ohms ranges

100mA =>2000m / 200m ohm ranges
Accuracy: ±0.1%
Protection Fuses: Mains = 0.5A, HBC, 5 x 20mm, DIN

Current = 0.5A, HBC, 5 x 20mm, DIN

Voltage = 0.5A, HBC, 5 x 20mm, DIN

Maximum Output

Voltage (C1-C2) 20V

More from Packaging Products & Equipment