Impeller / Propeller / Turbine - Agitators / Mixers
Batch Mixer dries/dehumidifies/cools bulk solid materials.
Press Release Summary: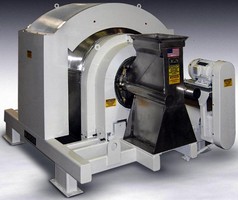 With all-stainless contact surfaces and suitable for 3-A and USDA applications, Rotary Batch Dryer-Dehumidifier-Cooler uses diagonal, vertical tumbling and spilling motion to optimize particle exposure. This, along with lifters inside drum, minimizes material degradation and promotes process efficiency. Lifters also serve to direct material into discharge spout for 100% evacuation. Ingredients can be blended in parts as small as 1 ppm with 100% uniformity in less than 3 min.
---
Original Press Release:

Rotary Batch Dryer-Dehumidifier-Cooler



UTICA, NY - A new Rotary Batch Dryer-Dehumidifier-Cooler for direct or indirect drying, dehumidifying or cooling of bulk solid materials has been introduced by Munson Machinery.

Configurations for direct drying, dehumidifying or cooling are equipped with a material intake chute configured with ports for the purpose of introducing heated or cooled air directly into the batch. The chute slides out from the machine, allowing unrestricted access to the interior of the vessel for rapid, thorough wash down.

Configurations for indirect drying, dehumidifying or cooling are equipped with a jacketed vessel that heats or cools the batch indirectly, minimizing exposure of the batch to plant air. Nitrogen-purged systems are offered for eliminating exposure to the atmosphere.

Portions of the batch are constantly contacting the sides of the vessel, and are gently folded back towards the horizontal axis, thus affecting a diagonal as well as a vertical tumbling motion, while proprietary lifters inside the drum continuously cut out portions of the material and fold them back into the main body of the batch. In conjunction with the constant tumbling and spilling action induced by the drum's rotation, these mixing actions are said to expose a maximum number of particles to the conditioned air circulating through the vessel, or to the heated or chilled walls of the jacketed mixing vessel, maximizing drying, dehumidifying or cooling efficiency while preventing product degradation.

The lifters also serve to direct material into the discharge spout for 100 percent evacuation of the batch.

The unit can also blend ingredients in parts as small as one per million with 100% uniformity in less than three minutes independent of, or in conjunction with, drying, dehumidifying or cooling of the batch.

Intended for 3-A and USDA applications as well as industrial applications involving contamination-sensitive materials and/or frequent product changeovers, the unit features all-stainless contact surfaces, wide spacing of internal flights for easy access, continuous polished welds having 0.25 in. (6 mm) radii, and external removable seals, allowing rapid sanitizing with no tools. Construction with exotic alloys as well as carbon steel is also offered, as are configurations with CIP vessel cleaning nozzles and spray lines for liquid additions.

The unit has a useable batch capacity of 20 cu ft (0.56 cu m) and total capacity of 48 cu ft (1.36 cu m), and is said to be equally effective in blending of batches from 100 down to 5 percent of rated capacity. Other sizes available range from 10 to 600 cu ft (0.28 to 17 cu m) useable capacity.

The company also offers Continuous Rotary Blenders, High Intensity Blenders, Forberg Mixers, and Ribbon, Paddle and Plow Blenders. Size reduction equipment produced by the company includes Screen Classifying Cutters, Centrifugal Impact Mills, Rotary De-Clumpers, Attrition Mills, Hammer Mills and Shredders.

For information contact Munson Machinery Company, Inc., 210 Seward Ave., Utica, NY
13503-0855, 800-944-6644, info@munsonmachinery.com, www.munsonmachinery.com

More from Software