Ball Nose Cutter is designed for high-feed milling.
Press Release Summary: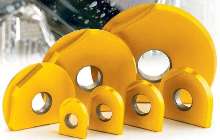 Used in semifinishing to heavy roughing operations, R218.20 indexable insert has rigid design with 2 effective teeth. Body incorporates pocket seat with tenon to avoid stress on locking screw, and radius chip space that strengthens cutter center. Available in 0.625-2.00 in. dia sizes with various shank styles, cutter is available with ME and M insert geometries. Inserts have helical curved edge that provides constant cutting rake all along edge.
---
Original Press Release:

Seco-Carboloy's New R218.20 Ball Nose Cutter Designed For High Feed Milling In A Variety Of Applications


Chicago, Ill., Sept. 8, 2004 - Seco-Carboloy introduced at IMTS 2004 its new R218.20 indexable insert Ball Nose cutter for copy milling. The new R218.20 cutter can handle very high feed rates thanks to a rigid design and the two effective teeth. The insert and body strength contributes to the cutter's high reliability, making the R218.20 cost-effective under peak performance and suitable for unmanned production. The new R218.20 Ball Nose is a versatile cutter that can be used from semi-finishing to heavy roughing operations typically found in mold and die type contouring applications. The cutter is available in sizes from 0.625 to 2.00 in. (16-50 mm) diameter with a variety of shank styles. The R218.20 cutter is available with normal and long edge cutting length.

The R218.20 Ball Nose cutter body incorporates a unique pocket seat with tenon to avoid stress on the locking screw, and a large radius chip space to make the cutter strong in the center.

Inserts for the R218.20 cutter have a helical curved edge that provides a constant cutting rake all along the edge, which reduces the cutting forces. The positive axial rake gives a smooth cutting action to minimize vibration and add stability. The inserts feature two different edges on the same insert -- a periphery cutting edge and a center cutting edge. The insert has a reinforced edge at the center to prevent insert edge breakage.

Two versatile insert geometries are available for use in the cutter: the "ME" geometry covers low to medium carbon steels, stainless steels, aluminum and exotic materials, while the "M" geometry covers harder and high-tensile steels and cast iron.

The new R218.20 Ball Nose cutter consistently delivers excellent performance and reliability in the most challenging of applications according to Seco-Carboloy engineers. For example, in a test comparing the new R218.20 cutter against Seco's previous generation indexable ball nose cutter milling in very difficult stainless steel (230-240 HB) with a cutting speed of 360 sfpm, table feed was increased up to 35 ipm from 12 ipm.

Following are some additional examples:

o Cutting a stamping die made of cast iron, the metal removal rate increased to 5.5 in.3/min. from 4.2 in.3/min. while feed was increased to .008 ipt from .006 ipt over a competitive cutter using a 0.550 in. doc with 695 sfpm cutting speed.

o In another application using the R218.20 cutter with a 15.75 in. overhang for copy milling on a pelton wheel for a power station made of difficult stainless steel, tool life was increased to 30 minutes from 20 minutes with a competitive cutter. The operation was performed using a feed rate of .016 ipt at a .080 doc with 360 sfpm cutting speed.

o In semi-finishing of an automotive stamping die made of hardened steel, the feed was increased to 132.30 ipm from 78.74 ipm with a competitive indexable ball nose cutter. Tool life with the R218.20 exceeded 4 hours, while it was impossible to use the competitor's cutter with the equivalent cutting data due to excessive noise and vibration and loosening of the insert screw after 15 minutes.

For more information on the new R218.20 Ball Nose milling cutter contact Seco-Carboloy, 11177 East Eight Mile Road, Warren, Mich. 48089. Tel: 800-832-8326.

Seco-Carboloy is a leader in metalworking technology and offers solutions in milling, turning, holemaking and threading. The company is committed to solving its customers' ever-increasing demands for greater productivity, quality and cost-effectiveness and was selected as the 2003 ISMA Value-Added Partner of the Year in the manufacturing category for saving customers over $40 million over a two-year period. Seco-Carboloy markets its full range of cutting tools and related accessories through a network of over 400 authorized distributors in the United States, Canada and Mexico.

More from Fluid & Gas Flow Equipment