Baking Dry Boxes reclaim moisture-sensitive devices.
Press Release Summary: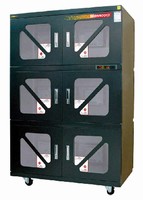 With T40W Series, surface mount devices and assemblies that undergo serious damage or failure from ambient moisture absorption can be restored to original condition. Dual-capability systems are low-temperature baking ovens as well as desiccant cabinets. As ovens, systems meet J-STD-033B maximum safe temperature requirement of 40°C, and as dry boxes, units provide RH level of less than 5%. Four models are available with capacities from 8.5-42.2 cu-ft.
---
Original Press Release:

Manncorp's Baking / Dry Box Systems



SAVE COMPONENTS & EQUIPMENT COSTS

Surface mount devices and assemblies that undergo serious damage or failure from ambient moisture absorption can now be restored to original condition with Manncorp's series of T40W Baking Dry Boxes. These unique dual-capability systems are low-temperature baking ovens that reclaim moisture-sensitive devices (MSDs) and are also desiccant cabinets.

As ovens, the systems meet the J-STD-033B maximum safe temperature requirement of 40ºC, above which lead-free components and packages may undergo oxidation causing popcorning, micro-cracking and other defects. As effective dry boxes, the T40Ws provide a dryer-than-Sahara RH level of less than 5%, the dehumidified atmosphere required for storage of components and packages.

CEO Henry Mann claims, "This equipment could easily pay for itself by rescuing components that would otherwise be rejected or require costly post-assembly rework. In addition -- although it's wise to bake and simultaneously store MSDs in a dry environment -- with the heating or dry box module shut down, either process can run independently. The T40W thus eliminates the need to purchase parallel equipment."

The ESD-safe T40W is available in four models with capacities from 8.5 cu. ft. (240 L) up to 42.4 cu. ft. (1200 L), with Internet-to-user prices ranging from $5,099. to $14,155. Traditional humidity control storage cabinets are also offered with models ranging from 5.5 cu. ft. (157 L) to 42.4 cu. ft. (1200 L) and priced from $3,125 to $8,050. For details, access https://manncorp.com/dry-boxes

More from Fluid & Gas Flow Equipment