Backlight features telecentric lens design.
Press Release Summary: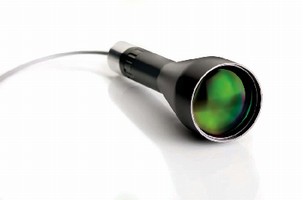 Using parallel rays, Telecentric Backlight Illuminator eliminates parallax errors, making it suitable for machine vision applications that need to measure edges. Silhouetting object provides high contrast for optimal edge detection while minimizing unneeded surface detail. Compatible with Silver Series Telecentric measuring lenses, illuminator accepts ¼ in. fiber optic light guides or 0.312 in. LEDs.
---
Original Press Release:

Edmund Optics® Backlight Advances Machine Measurement



September 26, 2008, Barrington, NJ. The Telecentric Backlight Illuminator combines the advantages of backlighting an object with the benefits of a telecentric lens design. Backlighting is an excellent way to improve machine vision applications that need to measure edges, because silhouetting the object provides high contrast for improved edge detection while reducing unneeded surface detail. Normal backlights, however, can reduce the sharpness of the edge, because diffuse reflections occur from the broad area output and thus reduce the accuracy of gauging and inspection systems. Because the Telecentric Backlight Illuminator uses parallel rays, it avoids these problems.

Edmund Optics' Telecentric Backlight Illuminator is based on the same principals as telecentric measuring lenses, which improve gauging accuracy by eliminating parallax errors. The Illuminators are compatible with EO's Silver Series Telecentric measuring lenses, which are considered among the best telecentric lenses in the industry. Product Line Engineer Bruce Butkus explains, "This backlit illuminator combined with a telecentric lens provides a powerful combination for a wide variety of machine vision applications."

This device also substantially increases illumination compared to a standard backlight, which allows faster measurements. It accepts 1/4" fiber optic light guides or 0.312" LEDs.

Visitors to Opto Paris (Booth 1.G.30) and Vision Stuttgart (Hall 4, Booth A51) can view EO's Telecentric Illumination Demonstration.

To download high resolution image of the telecentric illuminator, please click here.

About EO:

Edmund Optics® (EO) is a leading producer of optics, imaging, and photonics technology. Supporting the R&D, electronics, semiconductor, pharmaceutical, biomedical, and military markets around the globe; EO products are used in a variety of applications ranging from DNA sequencing to retinal eye scanning to high-speed factory automation. EO's state of the art manufacturing capabilities combined with its global distribution network has earned it the position of the world's largest supplier of off-the-shelf optical components. Customers can purchase items by contacting EO at 1-800-363-1992, via the catalog, or via the website at www.edmundoptics.com.

Company Contact:

Marisa Edmund

Vice President, Marketing

Edmund Optics, Inc.

101 East Gloucester Pike

Barrington, NJ 08007 U.S.A.

Phone: 1-800-363-1992

Fax: 1-856-573-6295

email: medmund@edmundoptics.com

More from Architectural & Civil Engineering Products