Axalta to Showcase Latest Wood Coatings Technology at International Woodworking Fair in Atlanta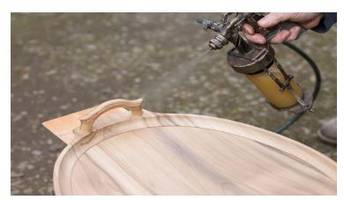 PHILADELPHIA, Aug. 21, 2018 /PRNewswire/ -- Axalta (NYSE: AXTA), a leading global supplier of liquid and powder coatings, will exhibit its wood coatings products and services at the International Woodworking Fair (IWF) in Atlanta, GA August 22-25, 2018. The four-time NASCAR Cup Series Champion Jeff Gordon will make a special appearance at Axalta's booth (#1562) in Building C of the Georgia World Congress Center from 3:00 - 5:00 p.m on Wednesday, August 22.
Axalta will display its latest technology, Amarium Pre-Catalyzed Lacquers, known for their ease of use, fast dry time, and durability. They also offer excellent clarity and provide enhanced UV protection. The premium, single component finish is ideal for cabinets, furniture, and other interior wood surfaces.
Axalta will also present new label designs which have been rebranded to directly represent the technologies contained in the cans. The new labels were designed to help customers identify the products more efficiently.
"We are excited to share our latest innovations at one of the top woodworking trade shows in the world," said Carl Gaynor, Axalta's Wood Coatings Marketing Director. IWF is the perfect venue for professionals in our industry to become familiar with our new brand, and see first-hand how we plan to shape the future of our business as we continue to provide dependable solutions to our customers."
Since 1806, Axalta has been one of the leading wood coating manufacturers and serves diverse markets and customers such as OEMs, applicators, and distributors with a variety of technologies including waterborne, solvent-based, waterborne UV and 100 percent solids UV coatings that enhance and protect wood and alternative wood substrates.
For more information on Axalta's wood coatings business, visit www.axaltawoodcoatings.com, and for more information on Axalta, visit www.axalta.com.
About Axalta
Axalta is a leading global company focused solely on coatings and providing customers with innovative, colorful, beautiful and sustainable solutions. From light OEM vehicles, commercial vehicles and refinish applications to electric motors, buildings and pipelines, our coatings are designed to prevent corrosion, increase productivity and enable the materials we coat to last longer. With more than 150 years of experience in the coatings industry, the approximately 14,000 people of Axalta continue to find ways to serve our more than 100,000 customers in 130 countries better every day with the finest coatings, application systems and technology. For more information visit axalta.com and follow us @Axalta on Twitter and on LinkedIn. 
Contact 
Vanessa Navarro 
D +1 856 313 98 25 
Vanessa.navarro@axaltacs.com
axaltacoatingsystems.com 
Web Site: http://www.axalta.com