Automotive Seat Belt Retractor helps conserve size and weight.
Press Release Summary: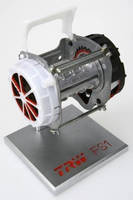 Designed with minimal components, Floating Spool 1 (FS1) uses forward movement of occupant to apply force to webbing in crash scenario. This moves spool and locks retractor. Product is available as standard retractor without load limiter as well as with constant load limiter using standard torsion bar. Offered in standard and reverse payout versions, retractor suits front and rear seat applications using buckles and/or anchor pretensioners. Several optional functions are also available.
---
Original Press Release:

New Generation of Seat Belt Retractor Offers Weight and Packaging Advantages



LIVONIA, Mich. -- TRW Automotive Holdings Corp. (NYSE: TRW), today announced that it is launching its next generation seat belt retractor - the Floating Spool 1 (FS1) - which offers reduced weight and smaller dimensions when compared with previous systems.  The global FS1 technology is starting production with several vehicle manufacturers in Asia, Europe, North America and South America during the second quarter of 2014.



In a crash scenario, most seat belt retractors use a lock pawl to hold the webbing in place. Instead, the new FS1 design with fewer components uses the forward movement of the occupant to apply force to the webbing, which then moves the spool, locking the retractor.  It offers a simpler, standardized component design that can be easily adapted to local market requirements at a highly competitive cost, and can be produced using fully automated or semi-automated manufacturing processes.



Aziz Canatar, global engineering director, TRW Seat Belt Systems, said: "Our new FS1 technology weighs approximately 15 percent less than the previous generation, making it a more environmentally friendly product that can help automobile manufacturers meet emissions and fuel economy targets. In addition, the smaller retractor offers significant packaging advantages and greater installation options."



The new retractor technology is suitable for front and rear seat applications using buckles and/or anchor pretensioners. The FS1 is available as a standard retractor without load limiter, but also with a constant load limiter using a standard torsion bar.



Both standard and reverse payout versions are available with the FS1. The sensor locking mechanism, with fewer moving parts, gives it excellent NVH characteristics. Optional functions include a child seat restraint feature, sensor blockout for folding seats and a noise dampening system.



Canatar added: "The design of the new FS1 offers many advantages related to weight, size and packaging flexibility. Standardized components and assembly options make it a truly cost-competitive, global technology. TRW believes FS1 is the retractor of choice to meet global market needs both now and in the future."



About TRW

With 2013 sales of $17.4 billion, TRW Automotive ranks among the world's leading automotive suppliers. Headquartered in Livonia, Michigan, USA, the Company, through its subsidiaries, operates in 24 countries and employs approximately 65,000 people worldwide.  TRW Automotive products include integrated vehicle control and driver assist systems, braking systems, steering systems, suspension systems, occupant safety systems (seat belts and airbags), electronics, engine components, fastening systems and aftermarket replacement parts and services.  All references to "TRW Automotive", "TRW" or the "Company" in this press release refer to TRW Automotive Holdings Corp. and its subsidiaries, unless otherwise indicated.  TRW Automotive news is available on the internet at www.trw.com.



CONTACT:

Louise Colledge

TRW Automotive/Europe

+ 44.121.506.5317

louise.colledge@trw.com



John Wilkerson

TRW Automotive/North America

734.855.3864

john.wilkerson@trw.com

More from Machinery & Machining Tools