AutomationDirect Introduces Industrial Strength Enclosure Heater and Enclosure Lighting Options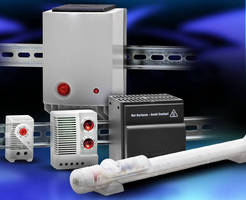 AutomationDirect now offers STEGO enclosure heaters, thermostats, hygrostats and hygrotherms to protect against condensation while providing the greatest possible air circulation.

Touch-safe convection heaters are designed to utilize natural convection, resulting in a circulating current of warm air while minimizing surface temperatures on the accessible side surfaces of the housing. The compact, DIN rail-mountable units are available in 12 to 30V AC/DC and 120 to 140V AC/DC models and with heating capacities ranging from 10W to 150W (depending on model). Touch-safe convection heaters start at $24.25.

Fan heaters with an operating voltage range of 100 to 120VAC are available in screw-mount and DIN rail-mountable versions as well as panel-mount and foot-mount models. Designed with high-performance axial fans, the units provide forced air circulation to prevent the formation of condensation and ensure evenly distributed air temperatures. Screw-mount and DIN rail-mount units have heating capacities of 150W to 650W (depending on model) while panel-mount and foot-mount versions have 950W or 1200W heating capacities. Panel-mount and foot-mount models are designed with integrated adjustable thermostats and built-in overheat protection. Fan heater prices start at $86.75.

DIN rail-mountable enclosure thermostats have also been added. Tamperproof styles available in normally-open and normally-closed models feature fixed set points and are available in single and dual versions. Adjustable thermostats available include single units in normally-open and normally-closed models as well as dual units containing one normally-open and one normally-closed thermostat with separate color-coded adjustable temperature controls. Thermostat prices start at $12.

Electronic hygrostats sense relative humidity and activate the enclosure heater at a setpoint to help prevent the formation of condensation within the enclosure. Available in two models (120VAC and 230 VAC), the DIN rail-mountable electronic hygrostats feature adjustable relative humidity setpoints (40% to 90% RH), high switching capacity and a visual function display. Hygrostat prices start at $55.

Electronic hygrotherms provide efficient temperature and humidity control. With a temperature setting range of 32¨H to 140¨H and a humidity range of 50% to 90%, the unit is designed with a high switching capacity and optical function display. The hygrotherm senses the ambient temperature and relative air humidity. The unit then turns a connected device either on or off if either the temperature is below or the humidity is above the set point. Hygrotherms are priced at $82.75.

LED lights suitable for panels and enclosures have also been added. Available with either On/Off switch or motion sensor, and in magnet-mount and screw-mount versions, the powerful output allows up to 10 lights to be connected together. LED light prices start at $67.50.

See the full line of Enclosure heaters at: www.automationdirect.com/enclosure-climate-control.

AutomationDirect sells over 12,000 feature-packed products through its Online Automation Superstore and 2,750-page catalog. The company offers its customers high-quality automation products at prices typically below the industry average, same-day shipping on in-stock items, the best documentation in the industry, outstanding sales and technical support, and a 30-day money-back guarantee on nearly every product. For a free catalog, access their Web site at www.automationdirect.com or call 800-633-0405.

More from Controls & Controllers