Automatic Cooler is used for dry-block calibration.
Press Release Summary: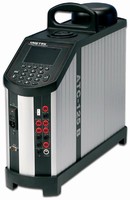 Capable of reaching temperatures from -90 to +125°C, JOFRA(TM) ATC-125 Ultra Cooler incorporates ATC Series dual-zone control technology to ensure precise temperature homogeneity throughout calibration well. Unit achieves cryogenic temperatures through Free Piston Stirling Cooler technology, which consists of Stirling heat pump in 290 g, compact unit. Helium gas acts as heat transport medium, while mains power variance immunity technology promotes temperature stability.
---
Original Press Release:

AMETEK T&CI Americas Introduces JOFRA ATC-125 Ultra Cooler



First Dry Block Calibrator to Provide Fast, Accurate Calibration Down to -90°C

ALBANY, NEW YORK -The new JOFRA(TM)ATC-125 Ultra Cooler from AMETEK T&CI-Americas is the world's first dry-block calibrator capable of reaching -90°C and also is able to reach temperatures as high as 125°C providing users with a total temperature range of 215°C.

The ATC-125 achieves cryogenic temperatures quickly, quietly and efficiently through its patent-applied for Free Piston Stirling Cooler (FPSC) technology that is only available from AMETEK. Together with a special heating element for elevated temperatures, these technologies allow users to perform 5-point calibrations up to five times faster than an equivalent liquid bath.

The patent-applied for FPSC is a Stirling heat pump in a lightweight (290 g) compact unit that is up to six times more efficient than more commonly used Peltier coolers. It uses a small amount of helium gas as the heat transport medium instead of conventional refrigerants such as CFCs, HFCs and Freon, making it more environmentally friendly. Also, since it is a dry-block calibrator, the mess, expense and flammability hazards associated with liquid bath chemicals are eliminated.

Along with its revolutionary cooling technology, the ATC-125 incorporates the well-proven ATC Series dual-zone control technology that ensures precise temperature homogeneity throughout the calibration well. This system makes possible the accurate calibration of both long and short sensors with the excellent accuracy and stability that JOFRA dry-block calibrator users have come to expect. High accuracy of + 0.3°C the internal reference sensor and + 0.06°C with an external reference sensor can be achieved with no measuring errors due to thermoelectric effects or cable resistance.

In addition, all ATC-125s are supplied with Mains power Variance Immunity (MVI) technology, which significantly improves temperature stability. MVI avoids stability problems by immediately identifying and correction variations in the mains input voltage in order to maintain a constant energy flow to the temperature block. The result is trouble-free calibration and a stability that the operator can trust.

The ATC-125 also offers outstanding versatility for calibration different sizes and types of sensors. Interchangeable inserts are available that can accommodate from one to seven sensors. Standard and custom sensor inserts are available with holes in either metric or imperial sizes. Although the ATC-125 can be used to perform fully automatic calibration routines without a PC, the unit is fully compatible with PC operation and comes complete with proprietary JOFRACAL calibration software.

The versatile ATC-125 is engineered for use in both laboratory and industrial environments. Its cryogenic temperature capabilities make it ideally suited for pharmaceutical, medical, food, food ingredients, hospital, marine, and many other applications.

For more information on the ATC-125 or any other JOFRA temperature, pressure, or signal instrument, contact AMETEK T&CI-Americas, Harriman Business Center, 1220 Washington Avenue, Building 7A/ Suite 300, Albany, NY 12226. Phone: 518-689-0222. Fax: 518-689-0225. E-mail: tci.sales@ametek.com Web site: http://www.jofra.com/

Related