Audio Jack Detector, Analog Switch come in compact package.
Press Release Summary: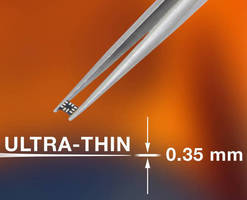 Audio jack detector DG2592 and low-voltage dual SPDT analog switch DG2750 come in surface mounting, 1.4 x 1.8 mm, miniQFN10 package with 0.35 mm profile that conserves PCB space and enables slim end products. Also functioning as pop noise control switch IC, DG2592 features ICs for detecting presence of stereo headset with microphone and send/end control button. Bidirectional DG2750 can switch negative swing audio without need for coupling capacitor.
---
Original Press Release:

Vishay Intertechnology Introduces Space-Saving miniQFN10 Package with Ultra-Thin 0.35 mm Profile for Portable Applications



New Audio Jack Detector and Low-Voltage Analog Switch Are First in New Family of Devices to Offer Enhanced Package



MALVERN, Pa. – Vishay Intertechnology, Inc. (NYSE: VSH) today introduced a new 1.4 mm by 1.8 mm miniQFN10 package with an ultra-thin 0.35 mm profile, providing a space-saving alternative to larger miniQFN10 and WCSP devices commonly used in portable applications. The new Vishay Siliconix DG2592 audio jack detector and DG2750 low-voltage dual SPDT analog switch are the first devices in a new family of solutions to feature the enhanced package.



Typical miniQFN10 and WCSP packages feature profiles of 0.55 mm. The new ultra-thin miniQFN10 package of the DG2592 and DG2750 is 36 % thinner, saving valuable PCB space and allowing for slimmer end products, including handheld healthcare instruments, smartphones, tablets, portable media players, digital cameras, and wearable Internet of Things (IoT) devices. Compared to WCSP packages, the enhanced miniQFN10 offers easier surface mounting and is better suited for the flexible PCBs commonly utilized in portable designs. The package exceeds current RoHS standards and is completely lead (Pb)-free.



The DG2592 is an audio jack detector and pop noise control switch IC that features integrated circuits for detecting the presence of a stereo headset with a microphone and send/end control button. The device features a wide operating range of 1.6 V to 5.5 V, low quiescent current of 10 µA max. at 1.8 V, and a 1.2 Ω max. MIC bias switch for quick discharge and clamping. The detector offers ESD tolerance > 8 kV (human body model).



The DG2750 is a low-on-resistance, bidirectional device that is capable of switching negative swing audio without the need for a coupling capacitor. Designed to operate from a single 1.8 V to 5.5 V power supply, the analog switch conducts audio signals in both directions with very low distortion. Built on sub-micron CMOS low-voltage process technology, the device offers a very low quiescent current and provides latch-up protection > 600 mA per JESD78.



Samples of the DG2592 and DG2750 are available now. Production quantities will be available in Q1 2016, with lead times of 13 to 14 weeks for large orders. Pricing for U.S. delivery in 1,000-piece quantities starts at $0.49 for the DG2592 and $0.75 for the DG2750.



Vishay Intertechnology, Inc., a Fortune 1000 Company listed on the NYSE (VSH), is one of the world's largest manufacturers of discrete semiconductors (diodes, MOSFETs, and infrared optoelectronics) and passive electronic components (resistors, inductors, and capacitors). These components are used in virtually all types of electronic devices and equipment, in the industrial, computing, automotive, consumer, telecommunications, military, aerospace, power supplies, and medical markets. Vishay's product innovations, successful acquisition strategy, and "one-stop shop" service have made it a global industry leader. Vishay can be found on the Internet at www.vishay.com.



Link to Datasheet:

http://www.vishay.com/ppg?62970 (DG2592)

http://www.vishay.com/ppg?64736 (DG2750)



Link to Images: https://www.flickr.com/photos/vishay/albums/72157664440509870



Follow Vishay:

http://twitter.com/vishayindust  

http://www.facebook.com/VishayIntertechnology

More from Optics & Photonics