Attrition Mill reduces particles down to 100 mesh.
Press Release Summary: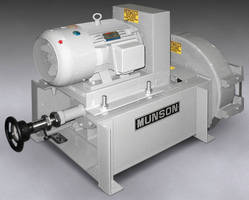 Able to reduce friable chemicals and minerals, metal powders, wood flour, fertilizers, insecticides, and fibers, Model SK-24-MS produces particles from 10–100 mesh. This 24 in. dia mill is equipped with outer stationary milling disc and inner rotating milling disc. Precision of machining and alignment of discs, together with constant spring pressure, maximize size uniformity of reduced material. Static and dynamic balancing of rotating runner head assembly provides vibration-free operation.
---
Original Press Release:

Attrition Mill Reduces Particles Down to 100 Mesh



UTICA, NY-- A new Model SK-24-MS Attrition Mill from Munson Machinery reduces friable chemicals and minerals, as well as metal powders, wood flour, fertilizers, insecticides and fibers, producing particles within relatively narrow size ranges from 10- down to 100-mesh.



The 24 in. (61 cm) diameter mill is equipped with an outer stationary milling disc, and an inner rotating milling disc that adjusts to vary the gap between the discs. Material enters the gap through the center of the outer disc, and is ground between the discs as it travels radially by centrifugal force created by the rotating disc, with greater reductions achieved by reducing the gap.



Capacity is generally dependent on the required output size of the reduced material, with coarser products produced at higher rates.



Precise machining and alignment of the discs, together with constant spring pressure, maximize size uniformity of the reduced material, while static and dynamic balancing of the rotating runner head assembly provides vibration-free operation. Plate patterns are selected to optimize the reduction of specific types of materials.



Quick-release separation of the grinding discs allows thorough wash down between product runs.  Access panels can be added to the rear of the housing for cleaning, inspection and maintenance.



Models are available with rotor diameters from 12 to 36 in. (30.5 to 91.4 cm), constructed of carbon steel (shown) and are available in #304 or #316 stainless steel to sanitary or industrial standards.



Other size reduction equipment manufactured by the company includes Pin Mills, Rotary Lump Breakers, Screen Classifying Cutters, Rotary Knife Cutters, Hammer Mills and Shredders. Blending equipment for dry bulk materials includes Rotary Batch Mixers, Continuous Rotary Blenders, Vee-Cone Blenders, Ribbon/Paddle/Plow Blenders, Fluidized Bed Mixers and High Intensity Blenders.



For information contact Munson Machinery Company, Inc., 800-944-6644, info@munsonmachinery.com ,  www.munsonmachinery.com

More from Transportation Industry Products