Atmospheric Plasma Cleaner features handheld design.
Press Release Summary: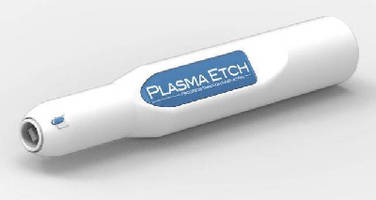 Operating with no external gas hookup, Plasma Wand is suited for spot cleaning and surface modification of large objects before bonding. By removing organic material and activating surfaces, product optimizes strength of bonds. Plasma cleaning works well on materials such as glass, plastic, rubber, and even metal. With treatment distance of 5–10 mm and treatment width of 5–20 mm, Plasma Wand is suited small production facilities, research labs, and universities.
---
Original Press Release:
Plasma Etch, Inc. Announces Handheld Atmospheric Plasma Technology.
Carson City, NV – Plasma Etch Inc, a leader in plasma innovation, recently introduced the 'Plasma Wand.'  The Plasma Wand is an easy-to-use, handheld plasma cleaning system that requires input gas to operate. 

With a low starting price, the plasma wand is the most cost effective way to experience the benefits of plasma cleaning.

By removing organic material and activating surfaces, the company touts the ability to improve the strength of bonds.  Plasma cleaning works well on materials including glass, plastic, rubber and even metal.

Plasma is the most environmentally friendly way to clean.  There are no chemicals involved and no hazardous waste to dispose of.  For most applications, the Plasma Wand doesn't need an input gas.  Input gases can be used if a specialized nozzle is purchased.

For more information, visit the company's website at: http://www.plasmaetch.com/atmospheric-plasma-wand-cleaner.php

About Plasma Etch:  Plasma Etch has been a leading manufacturer and industry innovator since 1980.  The company holds several patents for the invention, development and manufacturing of groundbreaking innovations, paving the way for plasma technology and the enhancement of quality manufacturing worldwide.  Plasma Etch specializes in plasma cleaning solutions of all sizes. Their products are industry proven and set the standard for reliability, speed and uniformity in plasma processing.

Contact information:
Plasma Etch, Inc.
3522 Arrowhead Drive
Carson City, NV 89706
(775) 883-1366
www.plasmaetch.com