ATCA Processor Blade (40G) provides multicore capabilities.
Press Release Summary: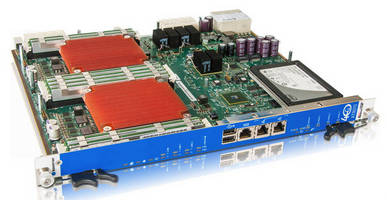 Leveraging up to 8 core Intel Xeon E5-2600 processors, Kontron AT8070 delivers performance and flexibility to address traffic and delivery issues of fixed broadband and wireless network applications. ATCA Dual Intel® Xeon® processor blade provides telecom equipment manufacturers with 40G general-purpose multicore processing capabilities. For memory bandwidth, each processor has 4 channels running at 1,600 MHz. Along with virtualization technology, blade offers 80 lanes of PCIe.
---
Original Press Release:

Kontron Enhances 40G Platform Portfolio with 40G ATCA Processor Blade



Telecom Equipment Manufacturers (TEMs) to accelerate their network system development for LTE EPC, carrier cloud and content delivery applications



Mobile World Congress, Barcelona: — Kontron, a global leader of telecom, network and cloud infrastructure platform solutions, today introduced the Kontron AT8070, a 40G ATCA Dual Intel Xeon processor blade with the highest performance and flexibility to address the high traffic and delivery costs of fixed broadband and wireless network applications managed by budget-constrained service providers.



As a complement to the Kontron OM9141-40G ATCA platform – which consists of a 40G chassis with advanced cooling, 40G switching, 40G packet processing – the Kontron AT8070 now adds 40G general purpose multicore processing capabilities to the mix. This provides TEMs additional configuration options and the opportunity to further reduce overall system costs while increasing throughput.



In the 4G mobile backhaul space, network applications in the LTE Evolved Packet Core (EPC) are leading the way to help service providers deploy the best infrastructure to accommodate growing bandwidth and Quality of Service (QoS) requirements for streaming mobile video, content-aware deep packet inspection (DPI), and other content delivery applications. The commercial-off-the-shelf (COTS) approach of designing LTE network elements with application-ready 40G ATCA platforms is the ideal and economical path to further reduce design costs and get to market faster.



AT8070 40G ATCA Processor Blade

For superior processing and I/O performance, the Kontron AT8070 is designed with the 8-core Intel Xeon processor E5-2600 family, a larger storage capacity, virtualization technology, and will support next generation Intel processors. Key benefits of the Kontron AT8070 include:



• Massive I/O bandwidth increase: a total of 80 lanes of PCIe (40 lanes per processor)

• Faster memory bandwidth: each processor has 4 channels running at 1600MHz, a 60% improvement over previous generation Intel Xeon processor 5600 series

• Large inter-processor connection: reduced latency with two 8GT/s QPI, which accelerates access a processor needs to access resources (PCIe and/or memory) attached to second processor

• More cores, same power budget: Kontron supports up to 8 cores (16 threads) with the same power budget that allowed only 4 to 6 cores previously. Dual-socket supplies 16 cores (32 threads).



Security workloads with compatible Kontron Rear Transition Modules (RTM)

For consolidating application, control and packet/content processing workloads onto one platform, the Kontron AT8070 is compatible with the Kontron RTM8063-CC, which features two SAS disk drives and the Intel Communications Chipset 89xx Series. This enables support for crypto-acceleration, compression, and other security application designs. The Kontron AT8070 is also available with only storage options with the RTM8063 and RTM8066 rear transition modules.



Kontron Active Power Management

Kontron has developed Active Power Management, a software interface for clients to intelligently pre-set and regulate the processor power settings on its AdvancedTCA processor blade via the Intel Node Manager embedded in the Intel Xeon processor E5-2600 family. The Active Power Management fully integrates existing Kontron Management Solutions and is accessible using known standards such as IPMI and PICMG interfaces. It allows dynamic power monitoring, power capping controls, and power threshold alerting, thus enabling platforms to achieve maximum performance and power for a single node.



Early evaluation units of Kontron AT8070 are available Q1,13.



For more information, please visit the Kontron AT8070 product page.



For more information, please visit the Kontron AdvancedTCA page.



About Kontron

Kontron is a global leader in embedded computing technology. With more than 40% of its employees in research and development, Kontron creates many of the standards that drive the world's embedded computing platforms. Kontron's product longevity, local engineering and support, and value-added services, helps create a sustainable and viable embedded solution for OEMs and system integrators. Kontron works closely with its customers on their embedded application-ready platforms and custom solutions, enabling them to focus on their core competencies. The result is an accelerated time-to-market, reduced total-cost-of-ownership and an improved overall application with leading-edge, highly-reliable embedded technology.



Kontron is listed on the German TecDAX stock exchange under the symbol "KBC". For more information, please visit: http://www.kontron.com/



Media Contacts



Americas

Richard Pugnier

Kontron

Tel:+1 (858) 623-3006



[email protected]





Annette Keller

Keller Communications

Tel:+1 (949) 640-4811



[email protected]





All rights reserved. Kontron is a trademark or registered trademark of Kontron AG. Intel® and Intel® Xeon® are registered trademarks of Intel® Corporation in the US and other countries. PICMG® and AdvancedTCA®, ATCA® are trademarks or registered trademarks of the PCI Industrial Computers Manufacturers Group. All other brand or product names are trademarks or registered trademarks or copyrights by their respective owners and are recognized. All data is for information purposes only and not guaranteed for legal purposes. Subject to change without notice. Information in this press release has been carefully checked and is believed to be accurate; however, no responsibility is assumed for inaccuracies.