Ashcroft® 2198 MicroTube™ Siphon features 316L stainless steel construction.
Press Release Summary: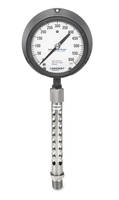 Ashcroft® 2198 MicroTube™ Siphon can be used between instrument and diaphragm and offers various process connections. Unit is used for protecting pressure devices from high temperature processes and is capable of containing up to 5000 psi pressure. Siphon can reduce temperature from as high as 800°F based on the input pressure.
---
Original Press Release:
Be Cool when the Heat is On or Unique Siphon Protects Pressure Instruments from High Temperatures
The Ashcroft® 2198 MicroTube™ Siphon will help to keep your pressure instrument safe from high temperature processes. This siphon is capable of containing pressure up to 5000 psi, and can reduce temperatures from as high as 800°F (427°C), depending on the pressure input. 316L stainless steel construction and a variety of process connections ensure compatibility with a wide variety of installation requirements. The unique low volume design allows the 2198 to be used between an instrument and a diaphragm seal.
For more information, contact Ashcroft at 203/385-0635 or visit www.ashcroft.com.
Ashcroft® Inc. manufactures gauges, thermometers, switches, transducers, transmitters, data loggers, calibration equipment and isolators for pressure measurement, monitoring and control. Product brands include Ashcroft®, Heise®, WillyTM and Weksler®. As a global provider, Ashcroft® Inc. maintains a network of manufacturing facilities, sales offices and distributors worldwide. The company's website can be accessed at www.ashcroft.com.