Architectural Coatings offer multiple color, effect choices.
Press Release Summary: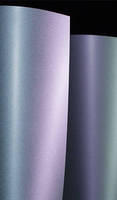 Fluropon® Effects include several families offering sparkling, richly saturated, and color-shifting pigments. Nova products combine rich color with dynamic sparkle. Featuring nature-inspired palette, Rustica comes in natural and polychromatic colors including some with subtle color-shift. Kameleon™ pearlescent hues with active color shifts deliver iridescent, multi-toned effect; intense, vibrant colors appear to shift when viewed from different angles or in changing lighting.
---
Original Press Release:

Valspar Debuts Fluropon Effects at AIA Welcoming Architects to a New Color Space



Minneapolis -- The Valspar Corporation introduces Fluropon® Effects, a new line of dimensional colors that feature an additional layer of sparkle, more richly saturated colors and color-shifting pigments. As part of Valspar's Fluropon high-performance architectural coatings product offering, Fluropon Effects creates a new color space for the design community to explore.



"We are excited to welcome architects and designers to a whole new color space. Fluropon Effects delivers brilliant hues and mesmerizing dimensional effects that have never been achieved in 70 percent PVDF architectural coatings," says Jeff Alexander, vice president of sales for Valspar's global coil and extrusion businesses. "We're not only turning heads by taking color in a new direction, we're matching it with the highest coating performance available. Fluropon Effects offers an experience that truly transforms the concept of color."



Fluropon Effects' first three color families will be unveiled in Valspar's booth 3717 at the annual American Institute of Architects (AIA) National Convention and Expo, May 14-16, at the Georgia World Congress Center in Atlanta. These new color families are:



Nova – Rich color with a vivid sparkle

"In the past, adding sparkle meant sacrificing color integrity. The more of one you wanted, the less you'd get of the other. Not anymore," explains Nancy Peden, Valspar's senior project chemist for extrusion coatings. "Using an innovative application process, the Nova family delivers dynamic, eye-catching sparkle in nearly any color you can imagine."



Rustica – Natural and polychromatic colors

Like a walk through an autumn landscape, the Rustica family features a soothing, nature-inspired palette that has never before been available in the Fluropon line. Rustica provides a calming invitation to richer, more saturated colors, including some with a subtle color-shift.



Kameleon™ – Pearlescent hues with active color shifts

With an iridescent, multi-toned effect, Kameleon moves architectural coatings into a new level of color. Expanding on the initial color offering seen at AIA 2014, Kameleon's color family now features a wider spectrum of intense, vibrant colors that appear to shift when viewed from different angles or in changing lighting.



Valspar debuts Fluropon Effects at AIA welcoming architects to a new color space

Also at AIA in booth 3717, Valspar will celebrate 50 years of Fluropon with a happy hour to toast the golden anniversary on May 14, 4-6 p.m. A photo booth with a professional photographer, fun props and Hollywood backdrop will be in Valspar's booth throughout the expo for attendees to capture and share their snapshots on social media using #Fluropon50. Continuing the celebrations, Valspar will share images from AIA, customer success stories and more about Fluropon Effects on www.Fluropon50.com.



The Valspar Corporation supports architects and designers with its high-performance coatings, industry-leading technical expertise, color-matching and sustainability resources, responsive customer service and high-priority lead times. Learn more at www.valsparinspireme.com.



About The Valspar Corporation

The Valspar Corporation (NYSE: VAL) is a global leader in the paint and coatings industry. Since 1806, Valspar has been dedicated to bringing customers the latest innovations, the finest quality and the best customer service in the coatings industry. For more information, visit http://www.valsparglobal.com. Valspar news releases and other investor information are available at http://investors.valspar.com/investors.



Media contacts:

Heather West

612-724-8760

heather@heatherwestpr.com



Isabel Bartig

612-851-7282

ibartig@valspar.com

More from Material Processing