Application Processors target wearable IoT devices.
Press Release Summary: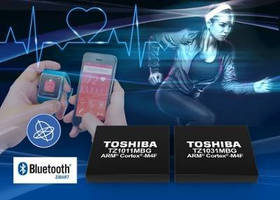 Suitable for activity monitors and smart watches, ApP Lite™ TZ1011MBG and TZ1031MBG integrate sensors, ARM® Cortex®-M4F processor, 8 Mbit Flash memory, Bluetooth® Low Energy controller, and 3-axis accelerometer. TZ1031MBG additionally incorporates 3-axis gyroscope, while Model TZ1011MBG includes 3-axis gyroscope and 3-axis magnetometer. For measuring weak biomedical signals, products have 24-bit delta-sigma ADC with high-speed switches connected to 3 input channels.
---
Original Press Release:

Toshiba Targets Wearable Devices with Latest Additions to ApP Lite(TM) Processor Family



Expands TZ1000 series processor lineup for Internet of Things applications



SAN JOSE, Calif., – Toshiba America Electronic Components, Inc. (TAEC)*, a committed leader that collaborates with technology companies to create breakthrough designs, today introduced the latest additions to its TZ1000 series of ApP Lite™  processors targeting the Internet of Things (IoT). The TZ1011MBG and TZ1031MBG application processors are designed to help developers meet the fast-growing demand for wearable IoT devices such as activity monitors, smart watches, bracelets and glasses.



Last year, Toshiba launched the TZ1001MBG and TZ1021MBG, which integrate sensors, an ARM® Cortex®-M4F processor, 8Mbit Flash memory and a Bluetooth® Low Energy (BLE) communication controller and 3-axis accelerometer in a single package, providing the essentials for a small-scale IoT device. The new application processors further expand sensing functionality, adding a 3-axis gyroscope to the TZ1031MBG and a 3-axis gyroscope and 3-axis magnetometer to the TZ1011MBG.



"There has been an explosion of interest in services that monitor duration and level of physical activity, help improve nutrition and help prevent diseases related to lifestyle - all of which drives demand for wearable devices," noted Saba Sharifi, vice president, business development, Logic LSI Business Unit, System LSI Group at TAEC. "With their high degree of integration, Toshiba's newest ApP Lite processors make it possible to realize wearable devices without any other components - enabling a smaller form factor and, in turn, smaller, lighter wearables."



The new processors are expressly designed for the low-power performance essential to securing a longer battery life for wearable devices. The high-performance ARM core with DSP and floating-point processing unit allows combining data from multiple sensors, both internal and external, to improve accuracy.



The products integrate a 24-bit high-resolution delta-sigma analog-to-digital converter (ADC) with high-speed switches connected to three input channels, making them capable of measuring weak biomedical signals such as pulse rate and the heart's electrical activity. In addition, integration of the BLE controller and RF circuit allows transfer of raw and processed data to external equipment, such as smartphones and tablets.



Toshiba is further expanding its lineup of systematic solutions for the TZ1000 series with the development of software algorithms that can be applied to measuring weak biomedical signals, such as pulse and ECG. Meanwhile, Toshiba is providing an evaluation environment for developers to shorten the time to market for products integrating its application processors.



Availability

Sample shipments of the TZ1031MBG and TZ1011MBG ApP Lite processors will start this month. The devices are scheduled to begin mass production in May and June, respectively.



ApP Lite is a trademark of Toshiba Corporation. ARM and Cortex are trademarks or registered trademarks of ARM Limited in the EU and other countries. Bluetooth is a registered trademark owned by Bluetooth SIG, Inc., and Toshiba uses it under license.



*About TAEC

Through proven commitment, lasting relationships and advanced, reliable electronic components, Toshiba enables its customers to create market-leading designs. Toshiba is the heartbeat within product breakthroughs from OEMs, ODMs, CMs, VARs, distributors and fabless chip companies worldwide.  A committed electronic components leader, Toshiba designs and manufactures high-quality flash memory-based storage solutions, solid state drives (SSDs), hard disk drives (HDDs), solid state hybrid drives (SSHDs), discrete devices, custom SoCs/ASICs, imaging products, microcontrollers, wireless components, mobile peripheral devices, advanced materials and medical tubes that make possible today's leading smartphones, tablets, cameras, medical devices, automotive electronics, industrial applications, enterprise solutions and more.



Toshiba America Electronic Components, Inc. is an independent operating company owned by Toshiba America, Inc., a subsidiary of Toshiba Corporation, Japan's largest semiconductor manufacturer and the world's sixth largest semiconductor manufacturer (Gartner, 2014 Worldwide Semiconductor Revenue Estimates, December 2014). Founded in Tokyo in 1875, Toshiba is at the heart of a global network of over 590 consolidated companies employing over 200,000 people worldwide. Visit Toshiba's web site at www.toshiba.co.jp/index.htm.



© 2015 Toshiba America Electronic Components, Inc. All rights reserved.



Information in this press release, including product pricing and specifications, content of services and contact information, is current and believed to be accurate on the date of the announcement, but is subject to change without prior notice. Technical and application information contained here is subject to the most recent applicable Toshiba product specifications.



COMPANY CONTACT:

Deborah Chalmers

Toshiba America Electronic Components, Inc.

Tel.: (408) 526-2454

deborah.chalmers@taec.toshiba.com

Reader Inquiries: Tech.Questions@taec.toshiba.com

More from Material Handling & Storage