Antimicrobial Tubing comes in sizes up to 1 in. ID.
Press Release Summary: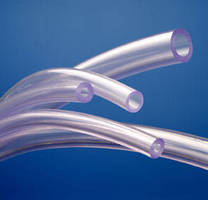 Made from non-toxic ingredients conforming to FDA standards with no phthalates, latex, or animal-derived ingredients, Clearflo® Ag-47 protects liquids from harmful bacteria that can result in taste transfer, odors, and illnesses. NSF-listed heat sealable tubing offers 74 ±5 Shore A hardness and withstands temperatures from -40 to 125°F. Available in sizes from 1/8–1 in. ID, transparent tubing is suited for dairy transfer, food processing, water lines, medical devices, and clean fluid transfer.
---
Original Press Release:

NewAge® Industries Introduces Additional Sizes of Clearflo® Ag-47 Antimicrobial Tubing



Seven New Sizes Offer More Choices



Southampton, Pa. – Clearflo Ag-47, NewAge Industries' antimicrobial tubing, is now available in an additional seven sizes, expanding its range up to 1" I.D. The NSF-listed tubing protects liquids from harmful bacteria that can result in taste transfer, odors and illnesses and is designed for applications such as beverage and dairy transfer, food processing, water lines, medical devices and clean fluid transfer.



NewAge's Sales Manager for its Plastics Division, Stephen Kuhns, said, "Although we just introduced the product last summer, we were receiving requests for larger sizes. Clearflo Ag-47 is unique in that its antimicrobial properties are throughout the tubing, not only on the inside, and customers with needs for sizes above a half inch were interested. In customary NewAge fashion, we answered that need."



Clearflo Ag-47's antimicrobial ingredient guards against bacteria such as E. coli, listeria, salmonella, legionella, MRSA, campylobacter and pseudomonas. It is especially effective in applications where there is infrequent use of fluids in warm or humid conditions and the tubing does not have an opportunity to dry thoroughly between uses. This is particularly important in applications where the tubing is submerged in fluid.



Clearflo Ag-47's additional features include:



National Sanitation Foundation listed (NSF-51) for food equipment materials

No phthalates, latex or animal-derived ingredients

Made from non-toxic ingredients conforming to FDA standards

Transparent for visual flow contact

Well suited for food and beverage applications including non-fatty aqueous, milk and alcoholic products

Heat sealable

REACH and RoHS compliant



Clearflo Ag-47 offers a Shore A hardness value of 74 ±5 and withstands temperatures from -40°F to 125°F (-40°C to 52°C). It's well stocked in 17 sizes, ranging from 1/8" through 1" I.D. New sizes include 1/8", 5/8", 3/4" and 1" I.D. with various wall thicknesses.



For more information on Clearflo Ag-47 antimicrobial tubing, contact the Fluid Transfer Specialists® at NewAge Industries, Inc., 145 James Way, Southampton, PA 18966; phone 800-506-3924 or 215-526-2300; fax 800-837-1856 or 215-526-2190; e-mail: info@newageindustries.com; product-specific web page: http://www.newageindustries.com/clearflo-Ag-47-antimicrobial-pvc-tubing.asp.



About NewAge Industries

In business since 1954, NewAge Industries manufactures plastic and rubber tubing in both reinforced and unreinforced styles. The company offers an overall product quality rating of 99.8%, provides custom extrusion and fabrication capabilities, and services customers worldwide. NewAge Industries maintains a large inventory and prides itself on same-day shipment of 99% of orders for its core product lines. In 2006, NewAge initiated an ESOP (Employee Stock Ownership Plan) for the benefit of both its employees and customers.



The AdvantaPure® division of NewAge Industries is ISO 9001:2008 certified and specializes in high purity tubing, hose, single use process manifolds and systems, and other molded components for the pharmaceutical, biomedical, food, beverage, and chemical industries. All products are manufactured, stored, and shipped using the cleanest methods possible to ensure unsurpassed product purity. Automated product identification systems, including gamma stable RFID tags and labels, are offered by NewAge's Verigenics® division.



Clearflo®, NewAge®, NewAge Industries AdvantaPure®, Verigenics®, and "Fluid Transfer Specialists®" are registered trademarks of NewAge® Industries, Inc.



Ann Phy

Marketing Coordinator

NewAge Industries AdvantaPure

NewAge Industries, Inc.

aphy@newageindustries.com

www.newageindustries.com

www.advantapure.com

215.526.2300 PHONE

215.526.2191 FAX



More from Fluid & Gas Flow Equipment