Analog Signal Conversion Transducers install in tight areas.
Press Release Summary: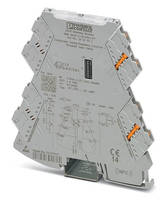 As universally configurable limit-value switch with PDT relay output, MINI PRO set-point relay module has plug-in connection technology. Analog input switching range is adjustable from 0–24 mA and 0–12 V, and form C relay on output side is rated to 250 V AC/DC up to 6 A. Offering adjustable input values from 0–24 mA and 0–12 V, MINI PRO analog-to-frequency transducer supports frequency signals from 0–11 kHz and PWM signals from 0%–100% for output.
---
Original Press Release:

New Options in Analog Signal Conditioning



Middletown, Pa. – Phoenix Contact has added two new analog signal conversion transducers to its space-saving MINI PRO analog family. Like other MINI PRO signal conditioners, the new set-point relay and analog-to-frequency transducer measure just 6.2-mm wide and are easy to install in tight spaces.



The set-point relay module is a universally configurable limit-value switch with PDT relay output. It has plug-in connection technology for switching analog limit values. With the analog input switching range freely adjustable from 0-24 mA and 0-12 V.  A high-quality form C relay on the output side is good for up to 250 V AC/DC, up to a maximum 6 A.



The analog-to-frequency transducer offers conversion of analog signals to a frequency or pulse width modulated (PWM) signal. On the input the ranges are freely adjustable from 0-24 mA and 0-12 V.  For the output, frequency signals between 0 and 11 kHz and PWM signals between 0 and 100 percent are possible. In addition, the output can be operated as a switching output, with the two switching thresholds set independently of one another.



Both of the new MINI Pro modules have multiple configuration options, including DIP switch, PC programmable or an Android app. This makes it easy for engineers to configure the signal conditioners, even without printed data sheets.



Angled housing makes it easier to access the wiring, so that terminations can be made in any order. Integrated test points allow analog loop testing without disconnecting the circuit. The MINI Pro's FASTCON Pro terminal blocks are clearly visible and easy to install. The user can easily and completely disconnect signal and supply circuits with just the twist of a screwdriver. Each terminal is also keyed, eliminating connection errors.



The T-bus power-bridging system can be used to supply power to multiple MINI Pro signal conditioners without the need for daisy-chain wiring. This speeds up installation and eliminates wiring errors. With a voltage range of 9.3 to 30 V DC and operating temperature range of -40 to +70 C, MINI Pro signal conditioners are suitable for nearly every industrial application.



About Phoenix Contact

Phoenix Contact develops and manufactures industrial electrical and electronic technology products that power, protect, connect and automate systems and equipment for a wide range of industries. Phoenix Contact GmbH & Co. KG, Blomberg, Germany, operates 50 international subsidiaries, including Phoenix Contact USA in Middletown, Pa.



For more information about Phoenix Contact or its products, visit http://www.phoenixcontact.com/minipro, or call technical service at 800-322-3225, e-mail info@phoenixcon.com.

More from Fluid & Gas Flow Equipment