AMETEK AMERON Expands its Oxygen Overhaul Kit Capabilities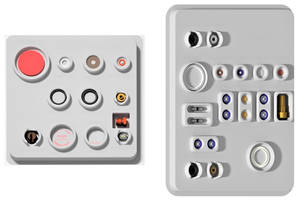 Baldwin Park, CA, Oct. 30, 2019 – AMETEK AMERON recently achieved FAA Parts Manufacturing Approval on the M28022-00 and M806022-02 oxygen bottle overhaul kits, both of which service different assemblies on aircrafts. The M28022-00 kit is used in the overhaul of 5500 and 9700 Series Portable Cylinder Assemblies (PCAs). Meanwhile, the M806022-02 kit services the 898, 807368-01, and 804822-14 series Cylinder and Regulator Assemblies (CRAs).
The PCAs are portable sources that contain high-pressure aviation-grade oxygen for high-altitude breathing. There are 12 parts of the M28022-00 kit that go into servicing them: six of the components go to the "ON/OFF" value assembly of the regulator, four components go to the Casing and Set Assembly, and two to the safety plug.
The CRAs, serviced by the 806022-02, are self-contained, high pressure fixed oxygen sources that supply decreased-pressure, aviation-grade oxygen to crew members and passengers. All of the M80602-02 kit's 16 parts are used on the regulator assembly.
Certain components in each kit are replaced each time they are removed during maintenance and others are used as needed. All components are made of non-corrosive and non-flammable materials. The oxygen bottles that these overhaul kits support are used across the commercial aircraft spectrum.
About AMETEK AMERON
Founded in 1988, AMETEK AMERON has pioneered numerous advances in aerospace fire suppression systems and is a leader in pressurized gas systems, fire extinguishers and pressurized stored energy systems. It is certified by the U.S. Department of Transportation, and its products meet or exceed MIL-I-45208A specifications. AMERON is a unit of AMETEK Aerospace and Defense, a division of AMETEK, Inc., a leading global manufacturer of electronic instruments and electromechanical devices with annual sales of approximately $5 billion. For more information, contact us at 4750 Littlejohn St., Baldwin Park, CA 91706. Tel: +1-626-337-4640 Fax: +1-626-337-1641 Website: www.ameronglobal.com 
More from Sensors, Monitors & Transducers