Ambient Temperature Control Solutions without Air Conditioning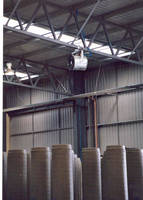 Air movement specialist Fanquip is engineering internal temperature control solutions for industry - without using the expensive mode of air conditioning.



Its experienced engineers are balancing the outside/inside air quotient by using thermostatically control fans that have reverse cycle operation.



This customised solution is able to keep factories, workshops, processing plants and depots at an ambient temperature to save energy.



It does so across the entire industry spectrum including food processing, manufacturing, electrical/electronics workshops, in general warehousing and also at transport and logistics depots.



For example, during the winter months Fanquip engineers would strategically install heater fans which would automatically activate at the coldest point just before dawn to heat the premises before staff arrives for morning shift.



Alternately, if the workplace is experiencing an excessive amount of heat during the day, Fanquip engineers can configure a system of fans to bring in cool air during the latter part of the night, so that by the time the morning shift starts the entire premises is cool.



Because all of these solutions work without the expensive heat exchange process required by air conditioning, a turnkey ambient temperature control system from Fanquip is a simple, low-cost and efficient way of keeping a worksite cool or warm - and clean - without opening doors or relying on reverse cycle air conditioning.



In a recent example, Fanquip was asked to configure a solution to supply heat to a building to assist a painting crew.



In this factory, a crew of tradesmen was assigned to paint steelwork and it was determined that if the ambient air temperature was increased, painting would not only be easier but the paint would more readily adhere to the substrate.



This provided significant savings for the client, in terms of labour, paint usage and production throughput.



An important aspect of Fanquip's turnkey solutions approach is its ability to institute appropriate safety and access equipment to allow easy ongoing inspection and maintenance – particularly for roof/ceiling mounted solutions.



For more information, please contact, Fanquip. 1800 224 308.



More from Electrical Equipment & Systems