Aluminum Saddle mounts cold plates to electronic boards.
Press Release Summary: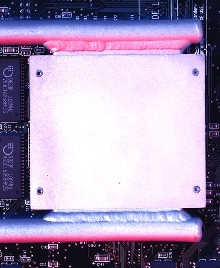 Aluminum Saddle has through or tapped holes for securing company's CP-20 Extended Surface cold plates to electronic boards. It applies consistent force across cold plate, ensuring good thermal connection. All-aluminum cold plates consist of connector tubes welded to micro-channel aluminum extrusion. They can be used with EGW, refrigerant, Fluorinert(R), and other fluids to remove heat from high heat load discrete components.
---
Original Press Release:

Lytron Introduces an Aluminum Saddle for Mounting Extended Surface(TM) Cold Plates on Electronic Boards


March 15, 2002, Woburn, MA - Lytron, the Total Thermal Solutions(TM) company, introduces an aluminum saddle for mounting CP-20 Extended Surface cold plates to electronic boards. Lytron's Extended Surface cold plates are compact, very thermally efficient, and cost-effective. The new mounting system consists of an aluminum saddle with through or tapped holes for securing the cold plate to an electronics board. The saddle is designed to apply a consistent force across the cold plate, ensuring a good thermal connection. The saddle is available for our standard CP-20 part or can be tailored for custom Extended Surface designs.

"The new saddle mounting system provides a simple, efficient, cost-effective method for attaching our Extended Surface cold plate to an electronics board," says Charlie Carswell, Lytron's president. "Because Lytron's Extended Surface Cold Plates have extremely low thermal resistance at a low cost, they are the best cold plate value on the market today. As the Total Thermal Solutions(TM) company, Lytron continues to bring innovation to liquid cooling components."

Cold plates are used to remove heat from high heat load discrete components such as IGBTs, MOSFETs, thermoelectrics and other high power components or from boards populated with high heat load components. Liquid cooling is often used in Power Supplies, Lasers, RF Transmitters, Semiconductor Processing Equipment, and UPS, Uninterruptible Power Supplies.

These all-aluminum cold plates consist of connector tubes welded to a unique micro-channel aluminum extrusion. The extended surface design significantly improves performance and results in an ultra-efficient cold plate which can be used with EGW, refrigerant, Fluorinert(R), and many other fluids. Its large internal surface area and thin mounting surface reduce thermal resistance. The CP-20 also provides excellent thermal uniformity because the cooling fluid flows below the entire cold plate surface. The CP-20 is available in U- and Z-configurations, with either straight or beaded connectors. For OEM volumes, the fittings and cold plate length can be modified.

Lytron designs and manufactures high performance heat transfer systems and components. Its cooling products include recirculating chillers, compact and portable non-refrigerated cooling systems, cold plates, aluminum oil coolers, copper tube fin heat exchangers, stainless steel tube-fin heat exchangers, and compact brazed-plate heat exchangers. Lytron is the only ISO 9001 registered Total Thermal Solutions provider. ISO certification assures users that Lytron's liquid-cooling products are defect-free and will provide years of reliable, leak-tight service. For more information, contact Lytron at 781-933-7300 or visit www.Lytron.com

More from Material Handling & Storage