Allied Machine Exhibits Robust Cutting Tools for Oil and Gas Industry at HOUSTEX 2019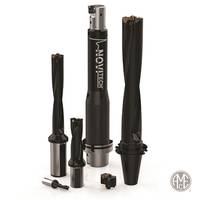 Featured tooling meets rigorous demands of machining difficult energy components.
Houston, TX - At HOUSTEX 2019, Allied Machine & Engineering presents three holemaking & finishing solutions for manufacturers of oil and gas field components in booth #2034. Machining parts for this rugged industry offers significant challenges such as variation in chip formation, long cross holes, interrupted cuts and muscling through high strength carbon steel. To meet these demands, Allied showcases the 4TEX indexable insert drill and the NOVITECH modular vibration dampening system, both of which launched in September. In addition, Allied Machine highlights the tenacious APX drill, engineered to excel in machining deep hole / large diameter applications.
The new 4TEX drill is engineered to deliver optimal chip formation and evacuation and provide higher penetration rates than standard twist drills for light duty machines. This indexable insert drill excels in applications with interrupted cuts or when drilling on angled surfaces. 4TEX is also ideal for making shallow 2xD, 3xD, and 4xD holes in the 0.472" – 1.850" (12mm - 47mm) range. 
The design increases core strength, improving hole size and straightness. Dual twisted coolant outlets improve penetration rates by enhancing coolant flow and generating superior chip formation and evacuation. 4TEX inserts are four-sided to maximize the tool life of each insert. Available geometries have been developed for steel, stainless steel, high temperature alloys, non-ferrous, and iron, which are optimized for excellent chip formation and wear resistance in difficult applications.
Allied Machine also shares the Wohlhaupter NOVITECH vibration dampening intermediate module at HOUSTEX. Mounted inside the patent-pending NOVITECH system, the viscoelastically mounted damper modules minimize vibrations during the machining of diameters ranging from 1.970" – 8.070" (50mm – 205mm), in longer overhangs up to 10xD. The NOVITECH increases boring operations productivity, surface quality, and process reliability while extending both the insert and machine center's spindle life by reducing chatter. The NOVITECH is compatible with any machine spindle and features Wohlhaupter's MultiBore system (MVS), making it simple to use with existing Wohlhaupter components.
The APX drill is the final holemaking solution in Allied Machine's featured lineup for HOUSTEX 2019. The APX delivers the strength and versatility needed in machining oil and gas field equipment. This heavy-duty drill allows for higher spindle speeds and is designed to take advantage of the power curve on modern CNC machines for maximum penetration rates in deep hole drilling.
The APX's exclusive geometry is designed to increase penetration rates and tool life, providing the lowest cost-per-hole among deep hole drilling lines. Drill diameters range from 1.299" –4.000" (33mm – 101.6mm) and the holders are available in 3xD, 5xD, 8xD, and 10xD. It can be used with either the T-A or GEN3SYS XT pilot insert to minimize drift and maintain straightness while utilizing the outboard carbide inserts to achieve tight control on the final cutting diameter.
For more information on the new 4TEX drill, APX drill, or NOVITECH vibration dampening module, stop by Allied Machine's booth #2034 or visit www.alliedmachine.com.
About Allied Machine & Engineering:
Allied Machine & Engineering is a leading manufacturer of holemaking and finishing tooling systems. Allied devotes its advanced engineering and manufacturing capabilities to create the widest selection of value-added cutting tools available to metal-cutting industries around the world. Our tooling solutions deliver the lowest cost-per-hole in a wide range of drilling, reaming, threading, boring, and burnishing applications.
Located in Dover, Ohio, Allied's precision holemaking technologies provide end users worldwide with the highest level of drill performance. Precision engineering and expert application support make Allied the first and best choice for solving complex metal-cutting challenges.
Related