Airtight Cabinet protects critical electronics.
Press Release Summary: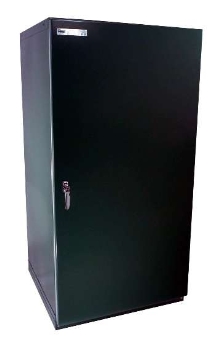 Measuring 59 in. high, Inert Gas Housing Cabinet consists of bank of drawers behind locking front door. When door is closed, neoprene gasket provides airtight seal. To prevent oxidation, user can lower humidity by pumping nitrogen gas or dry air into cabinet. Optional static dissipative finish minimizes danger of static build-up, which can damage electronic components. Cabinet is suited for Class 10,000 cleanrooms and meets MIL-STD-883A standard.
---
Original Press Release:
Stanley® Vidmar® Inert Gas Housing Protects Critical Electronics
Airtight cabinet lets users control humidity levels. Allentown, PA, April 27, 2005 - Today's high-tech electronic solders won't bond as well to oxidized surfaces as the old lead-based solders did. One way to prevent oxidation is to store critical electronic components and works in progress in a dry environment. The Stanley® Vidmar®, Inert Gas Housing cabinet creates such an environment by adding humidity control to one of the most efficient storage systems available. The 59-inch high cabinet was designed from the floor up for storing critical electronics. It consists of a bank of drawers behind a locking front door. When the door is closed, a neoprene gasket makes the cabinet airtight. The customer can then lower humidity by pumping nitrogen gas or dry air into the cabinet. A sensor in the cabinet gives the user precise control over humidity levels. "With the electronics industry moving away from lead-based solders, soldering parameters have to be much more tightly controlled," says Stanley Vidmar product manager Chris Helmstetter. "This cabinet helps make that control easier." The Inert Gas Housing also includes an optional static dissipative finish that reduces the danger of static build-up, which can damage electronic components. It's suitable for Class 10,000 clean rooms - the standard for microelectronics work -- and meets MIL-STD-883A. Like all Stanley® Vidmar® cabinets, the Inert Gas Housing includes an organizational system that doesn't waste an inch. -It can be ordered with various drawer heights, eliminating wasted air space. -Full-extension drawer roller bearing drawers put the entire drawer within easy reach. -Modular dividers in the drawers maximize storage efficiency in space-starved clean rooms, and can easily adapt to changing inventories and storage needs. -Individual locking drawers with different keys are available. This combination of storage efficiency and environmental control makes the Inert Gas Housing a perfect solution for storing critical electronics. About Stanley Vidmar Stanley Vidmar offers storage solutions to all industries, with modular, space-saving systems that provide quick, safe access to parts, tools and supplies. A Stanley® Vidmar® system can maximize valuable floor space while providing an integrated solution for inventory control. Customers may plan a pallet design with a Vidmar engineer or arrange for a free storage analysis by calling 1-800-523-9462. They can find detailed information about Stanley Vidmar products online at www.stanleyvidmar.com.
More from Materials