Aircraft Weighing System has 15,000-600,000 lb capacity.
Press Release Summary: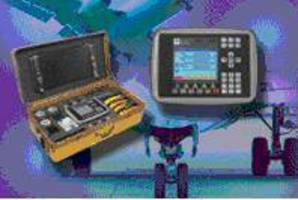 Accurate to ±0.1% of applied load or ±0.02% of channel capacity, JetWeigh-5(TM) jack point weighing system delivers synchronized sampling of all weight channels to minimize effects of vibration, oscillation, and wind. System combines hermetically sealed load cells, graphic touchscreen display, and software. Latter provides features that automate various functions/adjustments specific to aircraft weighing, and Flash memory stores data (retrievable via TCP/IP port or USB memory stick).
---
Original Press Release:

Vishay Systems JetWeigh-5(TM) Aircraft Weighing System Has Capacity Range of 15,000 to 600,000 Pounds and Accuracy of ± 0.1% of Applied Load or ± 0.02% of Channel Capacity



MALVERN, PENNSYLVANIA - Feb. 20, 2009 - Vishay Intertechnology, Inc. (NYSE: VSH) announces the introduction of the Vishay Systems JetWeigh-5(TM) aircraft weighing system. Combining digital technology with software enhancements and stainless steel, hermetically sealed load cells, the JetWeigh-5 jack point weighing system makes aircraft weighing easy, fast, and accurate.

The JetWeigh-5 features Vishay's new-generation graphic touchscreen display instrumentation, which enhances an already user-friendly operation. Complimented by a new ergonomically designed, rugged fiberglass carrying case, this state-of-the-art instrumentation incorporates custom software to provide functions and features specifically designed for aircraft weighing.

The JetWeigh-5's updated software replaces many manual functions and adjustments, greatly reducing the possibility of human error when calculating center-of-gravity or recording data. The JetWeigh-5's digital instrumentation uses the latest flash memory technology for storing aircraft weights in a history file for future comparison and data validation, and features a built-in library of over 200 aircraft types and characteristics. Easy download of weight results, history files, and setup can be done via TCP/IP port or USB memory stick. Back-up protection prevents loss of data in the event of a power failure.

Featuring three different weight modes suitable for various environments, the JetWeigh-5 has the capability to reconfigure load cell arrangement without having to disconnect the load cells. Robust and reliable synchronized sampling of all weight channels results in accurate measurements, minimizing the effects of vibration, oscillation, and wind. G-factor compensation between calibration and operation locations enables accurate and simple operation.

The JetWeigh-5 is engineered with a capacity range of 15,000 to 600,000 pounds and accuracy of ± 0.1% of applied load or ± 0.02% of channel capacity (whichever is greater), and is extremely well suited for routine weighing and center-of-gravity monitoring, weight checks after repairs or modifications, and design-proving weight and center-of-gravity determinations.

Vishay Systems manufactures, installs, and services systems for weighing and force measurement and control. These include systems with transducers and instruments to control process weighing in food, chemical, and pharmaceutical plants; force measurement systems to control web tension in paper mills, roller force in steel mills, and cable tension in winch controls; on-board weighing systems that are installed in logging and waste-handling trucks; and special scale systems for aircraft weighing and portable truck weighing. Vishay Systems is a division of Vishay Measurements Group, which develops, manufactures, and markets components, instruments, and systems for a wide variety of test and measurement applications. These include electrical resistance strain gages for both stress analysis testing and transducer manufacturing applications, as well as strain gage instrumentation; PhotoStress® coatings and instruments, which use a unique optical process to detect stress and other physical forces; and transducer products such as load cells, force transducers, and instruments. Vishay Measurements Group is part of Vishay Intertechnology.

Vishay Intertechnology, Inc., a Fortune 1,000 Company listed on the NYSE (VSH), is one of the world's largest manufacturers of discrete semiconductors (diodes, rectifiers, transistors, and optoelectronics and selected ICs) and passive electronic components (resistors, capacitors, inductors, sensors, and transducers). These components are used in virtually all types of electronic devices and equipment, in the industrial, computing, automotive, consumer, telecommunications, military, aerospace, and medical markets. Its product innovations, successful acquisition strategy, and ability to provide "one-stop shop" service have made Vishay a global industry leader. Vishay can be found on the Internet at www.vishay.com.

JetWeigh-5 is a trademark of Vishay Intertechnology, Inc.

More from Electrical Equipment & Systems